Spe Salvi
The full text of Pope Benedict XVI's encyclical 'Spe Salvi',

published Friday, Nov. 30/07 has been posted on Inside the Vatican's Web site .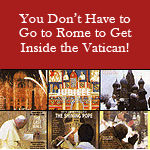 Special One-time Offer for New Subscribers Only! Subscribe to Inside the Vatican Magazine for Only $34.95! Buy Now and Save $15.00! Click on the banner ad above!
A Very Special "Russian Christmas" in Washington, D.C.
On December 17, a week before Christmas, the Moscow Boys' Choir and a leading Russian orchestra will travel to America to perform an exceptional "world premiere" concert of Russian Christmas music at the National Shrine of the Immaculate Conception in Washington... For more information, click here.

Talks by Dr. Robert Moynihan on CD!

--
"In Cordibus Jesu et Mariae"
"And I have the right to feel so about you all, because I have you in my heart, all of you . . . For God is my witness how I long for you all in the heart of Christ Jesus." (Phil 1: 7-8)