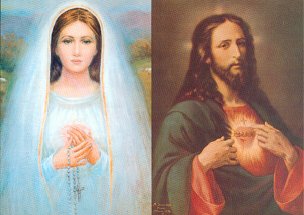 God's
BLUE BOOK 4
 
The Love of the Hearts of Jesus and Mary
---
Volume IV
---
Messages received by
Rita Ring
Sub-Title - The Love of the Hearts of Jesus and Mary
Messenger: I received these messages from Jesus and Mary from July 1, 1994 - September 30, 1994.
During that time Mary began to appear daily. She first appeared July 5, 1994 to me, my two children were present. Soon a holy priest would join me and my two children daily for the apparitions. Jesus and Mary gave me the messages Rosaries from the Hearts of Jesus and Mary. These rosaries are meditations given live and transcribed from tapes. They are published in written form in several books of rosaries.
The messages given in this book tell of those beginning apparitions of Mary. Also many messages are given from Jesus of His tender love.
The first core Shepherds of Christ Chapter was held on the last Tuesday in August, 1994, at Our Lady of the Holy Spirit Center. This was during the time I received the messages in this book.
The Love of the Hearts of Jesus and Mary
This book is centered on the intimacy between Jesus and Mary and the deep love for us of these two Hearts.
I experienced some of Mary's sufferings and was given insight into her deep connection with her Son. From conception to His Ascension, such oneness in their lives together! The rosary is from her young life to her old life. I saw the faces: young faces, old faces, joyful faces, sorrowful faces, on the statue. I experienced some sufferings of Mary holding the Child Jesus and holding His lifeless body under the cross. The intimacy between Jesus and Mary is felt so deeply in their peering eyes on the way to Calvary.
I experienced the lifting of the veil throughout this book. I had such profound experiences and insights into the other side. So immense is the love of Jesus that words are too weak to describe it. I was given a real awareness of heaven, hell and purgatory and how souls will truly be lost. It is a very deep book about the sufferings and the love of the two Hearts—Jesus and Mary.
July 1, 1994
I Accept Myself - I Am The Father's Creation
Messenger: Dear Father, I do not know You as well as I want, but I love You so.

You are one with Jesus. He is one with You. I love Jesus so much, Father. I come to You through Jesus to love You. I love You so because I love Jesus so. I know how You love me because You created me and gave Your only Son that I might get to heaven.

Oh, Father, to pray Your "Our Father" is such a delight!

"Our Father, who art in heaven, hallowed be Thy name, Thy Kingdom come, Thy will be done on earth as it is in heaven."

(Smelling strong scent of flowers - none around.)

Oh, Father, I love You so much.

"Give us this day, our daily bread and forgive us our trespasses as we forgive those who trespass against us." Amen.

Father, Father, Your love is so immense! You created this whole world and all that is in it. Holy Spirit, help me now to know the Father more. Jesus, help me to love Your Father more. Mary, help me to love the Father more. I want to be close to You, my Father. I love You, my beautiful Father, so very much. My Father, my Father, my beautiful Father!

If I am loving the Father, I am loving Jesus, so to love the Father is to love Jesus because He is one with the Father.

When I pray to the Father, I feel more the immenseness of God. How truly great He is - limitless! I feel warm and good in my chest to realize I have a Father Who loves me so much. I have a loving Father and I love Him so. Such warmth in my chest for my Father!

I praise You, Father. I praise You, Son. I praise You, Holy Spirit. Such fullness in my heart to love God, all three Divine Persons. What joy I feel to be united to God through the Immaculate Heart of my loving Mother. Oh, Mother, I love you. Such honor and praise to my God and love given to all three Persons and to you, my Mother, and St. Joseph.

I can accept myself now, knowing I am the creation of my beautiful Father. All that I am was created by Him. My feet are as He designed them, my nose is perfect, since He made me. I am His creation.

So, too, is my brother, His creation. My brother is perfectly designed by my Father. We are truly brothers, created by the Father, we are brothers through Jesus.

Oh, God, what a work of love to create such things for us. We are Your beloved sons and daughters, created by the hands of our loving Father. Such love poured out to us!

My Father is your Father. We are brothers in Him. Oh, Jesus, I love You so. Thank You for leading me to Your Father and my Father. We are brothers in Christ.

"My God, my God, why have You forsaken Me?" To His death on the cross, He loved us all, our Brother Christ. This is how He asks us to love our brothers, that we would lay down our lives for them. He loved us to His death. Can we do any less for our brothers? Christ is our Brother. God the Father is our Father. Jesus is the Son of God and we are heirs to the Kingdom through the salvation achieved for us by Jesus.

Jesus speaks: Come, oh come, My chosen ones. Do you see the love of your Father to give His only Son for you? Do you see the love of the Son to die for you? Oh, how you are loved, My little chosen ones! Come to Me and experience such love. I Am Who Am, I am God. I come to you in the Eucharist and you do not adequately know the true treasure you possess. Oh, little ones, come to God and be fed. I am the one, true God, come down from the Father. I come to you, chosen ones, in the Eucharist. I am He Whose bootstraps you are unworthy to tie and you run away with such ignorance. Spread My love, read and publish this letter, for I am God and I come to you to love you and be loved by you. Do not cast Me off. I am God, My Heart cries out for your love. Love Me through My beautiful Mother. Our love is your answer to your hurting souls. Do not go to this world, come to the God Who loves you. Receive Me in Holy Communion and where I am, My Father and the Holy Spirit are. Mary is with you also.

Such foolish ones, to ignore such treasure given freely to you! Oh, you blind ones! Pray to the Spirit to open your eyes to what you possess. You are so blind, My children. It is here you find your strength. Come to Us for the love of God, one in three Persons: Father, Son and Holy Spirit. Come and be united in your hearts to God and your loving Mother. Your peace is found in union with Jesus. Consecrate your lives to our Hearts. Consecrate your hearts to the Hearts of Jesus and Mary. Such love you will find here. My little ones - such love to fill you! Oh, I love you and long for your love, My beautiful children.

I am your loving Jesus.

http://www.sofc.org/