Matt C. Abbott column

'Consoling the Heart of Jesus: A Do-It-Yourself Retreat'


Matt C. Abbott

The following is a significant portion of the Introduction to the recently-published book
Consoling the Heart of Jesus: A Do-It-Yourself Retreat
, authored by Brother Michael Gaitley, MIC. Many thanks to Brian O'Neel, Michele Sylvestro and Michael Strub of CatholicWord.com for allowing me to reprint this material.
INTRODUCTION A Retreat That's Easy to Make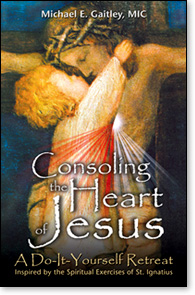 Few things help one to grow in holiness more quickly than the
Spiritual Exercises of St. Ignatius
. Unfortunately, Ignatius's famous retreat isn't so easy to make. I say that because the full experience of what he intended requires 30 days of silence and prayer — but who's got 30 days? While there's a shortened, eight-day version of his retreat, many people don't even have that much time to spare. Still, those who do have the time don't always have the money. (Ignatian retreats can be expensive.) Moreover, even when time and money are no problem, finding a retreat director often is.
I wrote
Consoling the Heart of Jesus
to help those who are serious about growing in holiness but who have neither the time nor the resources for making the
Spiritual Exercises
. Unlike the
Exercises
, my retreat is easy to make: It doesn't require a director, doesn't cost much, and best of all, it only takes one weekend. Of course, such a short retreat can't possibly give the full experience of the 30-day version — but it's a great alternative. Why? Because it communicates the most essential principles of the
Spiritual Exercises
, the very principles that have made Ignatius's retreat such a powerful instrument of conversion for nearly 500 years.
Matt C. Abbott is a Catholic columnist with a Bachelor of Arts degree in Communication, Media and Theatre from Northeastern Illinois University in Chicago, and an Associate in Applied Science degree in Business Management from Triton College in River Grove, Ill. He has worked in the right-to-life movement and is a published writer focused on Catholic and social issues. He can be reached at
mattcabbott@gmail.com