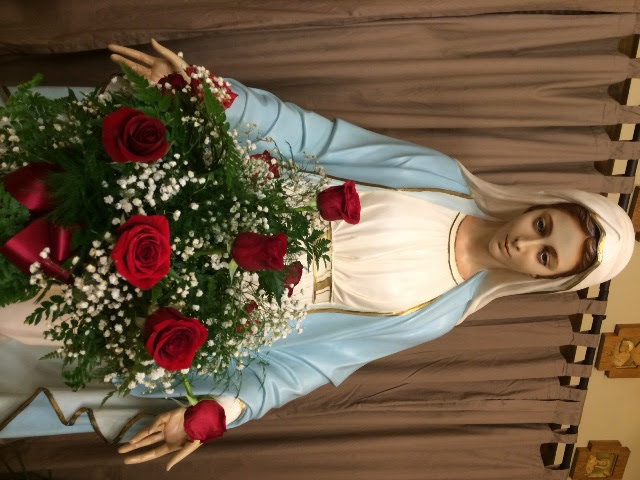 Roses presented to Our Lady by our email group
in honor of St. Valentine's Day - our patron for 2014!
Thank you, Teresa!
(c)Mary TV 2014
J.M.J
St. Cyril and St. Methodius
St. Valentine
Dear Family of Mary!
Today is the feast day of the saint who chose our Daily Reflections for 2014! St. Valentine. Here is the little entry for our saint:
Saint Valentine, priest, physician, martyr (celebrated

February 14th

)
"I am beautiful because I love. If you want to be beautiful, love." (Our Lady in Medjugorje, March 25, 1985) Pray that people will model their love after God's love.
Our little job from St. Valentine is to model our love after God's love and pray that others will too!! What a great job.
Interestingly, today in the second part of Vicka's talk on October 25, 2013, she refers to the very same message used for St. Valentine: "I am beautiful because I love. If you want to be beautiful, love."
St. Valentine, please pray for us today and every day, as we try to understand and live Our Lady's messages. St. Valentine, pray for us!
Vicka Ivankovic - Mijatovic, speaking to pilgirms on October 25, 2013, Part 2:
And Our Lady asks us to pray a little bit more for her plans, for her intentions. Our Lady wants us to take the Holy Bible into our hands and to read a little bit every day. And Our Lady also wants us to pray for the Holy Father, for the bishops and priests, because they are very much in need of our prayers. But in a particular way, Our Lady asks us to pray for one of her plans. There is really something that Our Lady is very concerned about, that breaks Our Lady's heart. It is the situation of the young people and families in today's world.
Our Lady says that she has been praying for peace, and she invites us to pray for the same thing, and to support her with our prayers. And this evening when Our Lady appears at

5:40

I am going to recommend all of you and all of your petitions to Our Blessed Mother. At that time of the apparition please open your heart and recommend to her all your needs and your desires.
Vicka speaking in Medjugorje
I am sure that many of you know about the experience that I and Jakov had at the beginning of the apparitions when Our Lady showed us heaven, hell and purgatory. We were at Jakov's and Our Lady appeared, and she said, "Now you are going to go with me." And then Jakov who was only ten, thought that to go with Our Lady meant to die, and so he generously offered, "Our Lady, why don't you take Vicka, since she has 7 brothers and sisters and I am the only son of my mother." And I personally was thinking, How long will we travel, how many days will we travel up or down. Our Lady gave me her left hand and her right to Jakov and she took us with her. And the ceiling just opened for us to go through.
And in a second we came to Paradise. I saw an endless space. I saw the light that does not exist here on earth. I saw people who looked very much alike, and they were dressed in long gowns in pastel colors, green, yellow and pink. They were all walking around talking and praying and little angels were flying around. And then Our Lady said "Look at all these souls in Paradise, how happy they are! This is the joy that cannot be described, that does not exist here on earth." And there was endless space.
In purgatory we were not able to see persons but it was very foggy. And one could perceive that the souls were suffering there. And Our Lady said that all those souls here in purgatory are waiting for our prayers so they can be transported to paradise.
And in hell we saw fire. We saw people who looked normal, but when they entered the fire, they were cursing, and transforming into different animal forms. And Our Lady said that all those souls in hell got there because it was their own will and decision. They are souls who here and now live and do everything against God and when they die they just continue the same way of life. Our Lady said that there are many people who live here on earth who think that when they die everything will be over. Our Lady said this is the biggest mistake. We are just travelers here on earth and when we die life goes on.
There was somebody who asked me, "Vicka how beautiful is Our Lady?" When Our Lady appears, there is a flash of light three times and then Our Lady appears. She comes in a gray dress, and she has a white veil, black hair, blue eyes, and there is also a cloud on which she floats. And for special feasts, like Christmas, her birthday or the anniversary, Our Lady comes in a gold dress. And during the Christmas apparition, Our Lady always comes with Jesus, the infant, in her arms. Also during our birthdays Our Lady wishes us her best, and we do the same on her birthday. We may touch her and shake hands, and it is the same feeling as with an ordinary person.
The beauty of Our Lady cannot be described because there is no beauty like it on earth. And once we asked Our Lady, "Why are you so beautiful?" And the Madonna responded, "I am beautiful because I love. And you need to love in order to be beautiful." The beauty from outside is not that important, but the beauty from the inside reflects in our hearts and our faces, and it is the way we become more beautiful when we have love in our heart. Our Lady said we should not be concerned about the way we look, but we should be more concerned about the beauty of our hearts because when we have beautiful hearts it will reflect on our faces.
Vicka prays with pilgirms!
Now we are going to stay in silence and prayer and I am going to pray over all of you. It is very important to spend time in silence because silence helps us a lot. Our Lady says that we speak a lot because we don't pray enough. So we will spend time in silent prayer. And every evening the first words I direct to our Lady are about the sick, for all of you who are carrying crosses. And Our Lady said one time, "You cannot even imagine the value of your crosses in the eyes of the Lord, especially if you carry your crosses in love."
As I said, we will spend some time in silence, and during this time you may hear some sounds but just continue to pray in silence. Thank you all....
Vicka prayed with the crowd for 23 minutes in silence....
When Vicka prays, she seems to get lost in the prayer. She no longer seems connected to earth! Her eyes are closed, her hands clasped, and her head bowed. Intense!! And silent! And filled with peace. Her prayers are powerful. There have been many conversions and healings during Vicka's prayer. I believe that Our Lady wants our prayer to be intense, silent, and powerful as well. She needs our prayer, our faith, our hope and our love, so that she can convert the world.
May we learn to pray like Vicka! And may we love like God!
In Jesus, Mary and Joseph!
Cathy Nolan
©Mary TV 2014
PS. Today the Parish will climb Apparition Hill, praying the Rosary. We will join them, live, starting at

8:00 am EST

!! Then the Daily Rosary will follow at

10:00 am EST

. And then we will have Silent Prayer at

11:30am

from St. James Church. Finally Family Prayer, Divine Mercy at

3:00 pm

! All at www.marytv.tv !!!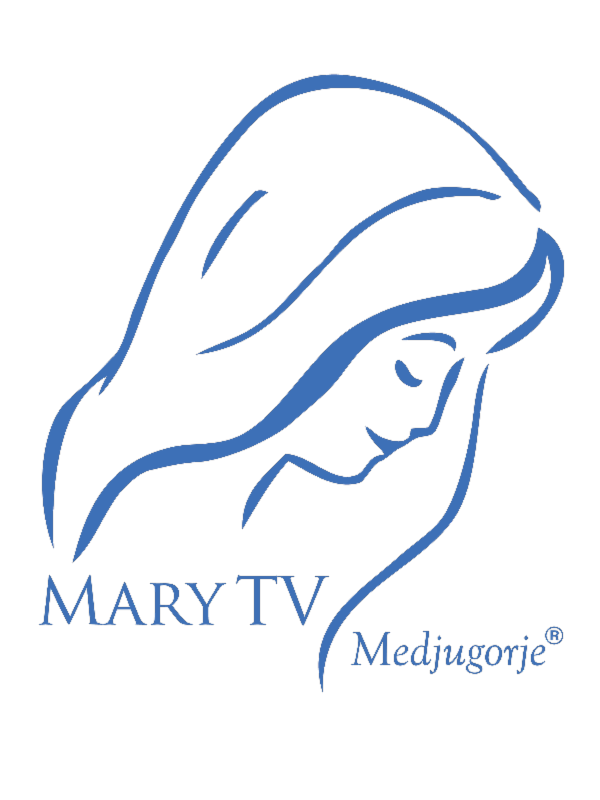 "
Medjugorje is the spiritual center of the world!"
Blessed John Paul II -
Be connected!