April 15 – Our Lady of Kiev (Ukraine)
Kiev: A cradle of Marian devotion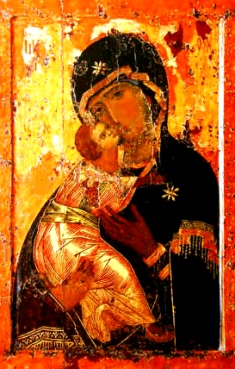 In 1037, Yaroslav the Wise, Prince of Kiev (then an independent Russo-Ukrainian principality) and son of Saint Vladimir, built a shrine in honor of the Annunciation, which was located near the entrance of the city of Kiev at that time. He also consecrated his people to the Holy Mother of God.
After this, Kiev became a cradle of Marian devotion that later spread to the whole Ukrainian nation. In fact, about 20% of the churches in Ukraine have always been dedicated to Mary.
In 1988, the Ukrainian Greek-Catholic Church celebrated the millennium of its Christian baptism, also called the 'Baptism of Rus.' Saint John Paul II took part in these ceremonies.
In the apostolic letter Euntes in mundum of January 25, 1988 (§10), the Pope prayed for the unity of the two sister Churches – the Greek Catholic and the Orthodox – in that country, recalling that they are both daughters of Saint Vladimir and were not divided originally in their different forms, the Byzantine and the Roman.