April 29 – Our Lady of La Ghiara (Italy, 1596)
This niche used to house a statue of the Virgin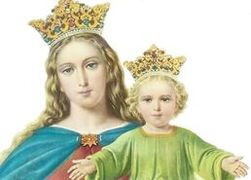 Our Lady of La Ghiara is located in the city of Reggio Emilia, north-central Italy. The term "ghiara" refers to the gravel of the stream that descends along the wall of the Servite convent established there. There used to be a niche that housed a statue of the Madonna dating back to about 1300, called the Madonna della guiara.
A church was built in 1596 to replace Our Lady's niche. On April 29th of the same year a 17-year boy named Marchino, deaf and dumb from birth, was miraculously healed there.
Pope Clement VIII recognized the miraculous nature of the healing and approved the pilgrimage to this place. A larger shrine was then built, and miracles occurred in greater numbers.
On April 15, 1945, during a period of violent civil unrest, the bishop and the population vowed to solemnly commemorate the anniversary date of April 29th for seven consecutive years, in memory of the healing of Marchino by Our Lady of La Ghiara, and also they promised to build another church, dedicated to Our Lady of Peace, in a working-class district.
The city was spared violent attacks, the vow was fulfilled, and the new church built.