* June 19 – Second visit of John Paul II to Poland in 1983 * Only Mary can unite us… ---
June 19 – Second visit of John Paul II to Poland in 1983
Only Mary can unite us…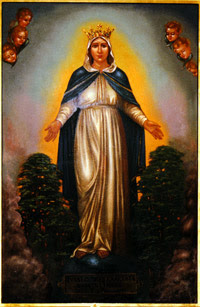 Our Lady of Lebanon
Sheikh Mohamad Nokkari, a Sunni Muslim who is very involved in interreligious dialogue in Lebanon, is also a judge and a law professor in Beirut, Dubai and Strasbourg... In 2000 and the following years, he actively participated in the establishment of the Solemnity of the Annunciation as a national Muslim and Christian holiday in Lebanon.
In an interview, Aleteia.org asked him: "In your opinion, is Mary the only one who can unite Christians and Muslims?" His response was: "At a conference in Jamhour (Lebanon), I met a Christian who asked me if we could pray together. I replied, "Yes, only Mary can unite us and enable us to do something together." Thus we created the committee "Together around Mary" with two co-chairs, myself and Nagy Khoury, president of the Federation of Alumni of Catholic Schools in Lebanon."
We must get the people involved, not only the institutions. It's what we do in Lebanon, precisely with the feast of the Annunciation.
and give your loved ones the opportunity to discover a new aspect of the mystery of the Mother of God each day.