* July 10 – Pilgrimage of Aachen: Mary's dress displayed every seven years (Germany) * Every seven years they are taken out of the gold reliquary ---
July 10 – Pilgrimage of Aachen: Mary's dress displayed every seven years (Germany)
Every seven years they are taken out of the gold reliquary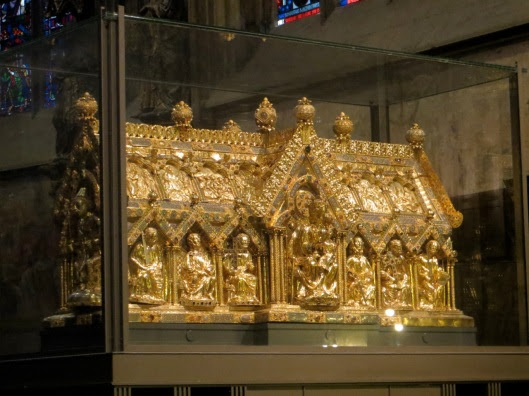 For over 660 years, people have come on pilgrimage to Aachen, Germany to venerate four relics preserved in its cathedral since the time of Charlemagne.

Historical records show that Emperor Charlemagne received a gift of relics from Jerusalem around the year 800 AD. Since 1349, these relics have been presented to the faithful in Europe and around the world every seven years, and for that purpose, they are taken out of the golden reliquary of the Virgin Mary in the Aachen Cathedral for a period of ten days.

These relics are pieces of ancient fabrics described as:
The dress worn by Mary on the night of Jesus' birth

Jesus' swaddling clothes with which Mary protected the Child

The sheet that wrapped the head of Saint John the Baptist after his beheading

The loincloth worn by Jesus on the cross
and give your loved ones the opportunity to discover a new aspect of the mystery of the Mother of God each day.
Aachen Cathedral c. 1900 (Wikipedia)