* July 5 – Feast of the Seven Joys of Mary (Annunciation / Visitation / Nativity / Adoration of the Magi / Finding of Jesus in the Temple / Resurrection / Ascension) * "I am here for the Virgin Mary" ---
July 5 – Feast of the Seven Joys of Mary (Annunciation / Visitation / Nativity / Adoration of the Magi / Finding of Jesus in the Temple / Resurrection / Ascension)
"I am here for the Virgin Mary"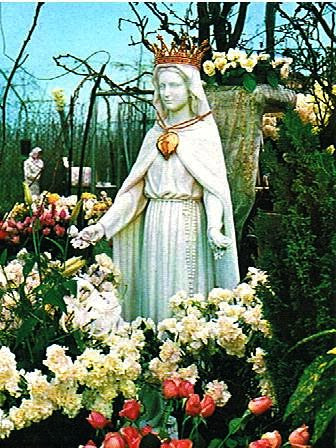 In 1999, E.B., a French engineering student who had just about lost his faith, was taken by a friend to San Damiano, Italy, where he saw "the miracle of the sun." He was not impressed and said to himself, I am here for the Blessed Virgin, not for the sun. So he went and stood in front of her statue. Suddenly the statue "disappeared" before his eyes, giving way to a bright vision of Our Lady in a white dress.
But he didn't just have a vision: his heart was deeply touched, in a penetrating and restoring way that moved him to reorient his entire life.
He returned to San Damiano several times, and has since organized several pilgrimages there, although he never again saw the vision—a true sign of its authenticity.
His deep and tangible bond with Mary that began in 1999 now permeates his entire life and career.
René Laurentin and Patrick Sbalchiero
In Dictionnaire encyclopédique des apparitions de la Vierge. Inventaire des origines à nos jours. Méthodologie, prosopopée, approche interdisciplinaire, Fayard, Paris 2007
and give your loved ones the opportunity to discover a new aspect of the mystery of the Mother of God each day.