Love God... Love God... Love God!!!
(c)Mary TV 2015
J.M.J.
July 6, 2015
St. Maria Goretti
Dear Family of Mary!
"Dear children, I am calling you to spread the faith in my Son - your faith. You, my children illuminated by the Holy Spirit, my apostles, transmit it to others - to those who do not believe, who do not know, who do not want to know - but for that you must pray a lot for the gift of love, because love is the mark of true faith - and you will be apostles of my love. Love always, anew, revives the pain and the joy of the Eucharist, it revives the pain of the Passion of my Son, by which he showed you what it means to love immeasurably; it revives the joy for having left you his body and blood to feed you with himself - and in this way, to be one with you. Looking at you with tenderness, I feel immeasurable love which strengthens me in my desire to bring you to a firm faith. Firm faith will give you joy and happiness on earth and in the end the encounter with my Son. This is his desire. Therefore, live him, live love, live the light that always illuminates you in the Eucharist. I implore you to pray a lot for your shepherds, to pray so as to have all the more love for them because my Son gave them to you to feed you with his body and to teach you love. Therefore, also you are to love them. But, my children, remember, love means to endure and to give, and never, ever to judge. Thank you." (July 2, 2015)
The day before Our Lady gave us this beautiful message which speaks so much about love, Fr. Adrian from Ireland gave the homily for English Mass. His homily is a perfect image of exactly what Our Lady is speaking to us about in this message. I couldn't resist transcribing it for you. But I encourage you to go to www.marytv.tv and scroll down the home page to the English Mass (Past 7 days). Go to the playlist, and scroll to 07-01-15 Mass. You can listen to Fr. Adrian deliver this homily. He is anointed and his words are powerful.
Fr. Adrian from Ireland - English Mass July 1, 2015:
Good morning everybody! I would like to share with you this morning a few things. When I was young, for five years in my teens and early twenties, I was an atheist. I did not believe in God because of someone who tried to convince me of that. I don't think I had ever really prayed in my life, although I came from a Catholic family in Ireland. I would never have believed. I had shut the door and never thought that I would again be a religious person. It was also due to the bad life I was living at the time, I was quite rebellious, into rock music and whatever.
But when I was 22 years of age, one day in our house, in my room, I felt completely surprised, and completely unexpectedly I felt this most beautiful presence that I now can say I recognize as the presence of God. It was the sweetest, most beautiful moment of my life. And I felt God present. I was so surprised. I said, "Lord, I don't believe in you." It melted my heart. I felt love that day more than any other day in my life. And I knew that God is love. For me, the worst, the most rebellious, the most distant. And God, you might say, touched my heart.
One thing that day maybe was that God was calling me to pray, to "speak with me". Talk to God. And I did that day. And of all the days of my life, I will never forget that day. And I will never forget that God.
Some days afterwards, I opened the Gospel. Something I never would have done before. But I opened the Gospel, and what I saw that day equally touched my heart. It was the line, "Hear, O Israel. The Lord your God is one God. And you shall love the Lord your God with all your heart, and all your soul, and all your mind, and all your strength." Those words became like liquid sunshine in my heart. And I was full of joy to think I had found the reason for my life. I had read philosophy books, I read every book, but there I found it. To love God with all your heart. We are created for this. For me it was the discovery of life, of love, and I felt that.
Sometime afterwards, I went back to Mass, like this, a

10:00 AM

Mass. It was mostly a Mass for the mothers of the parish and there must have been about 200 of them. And they must have looked and said, "Well, will you look who has come today!" This fella with long hair, a kind of a hippie. I don't know what I was. And I felt in that Mass Jesus welcoming me, and I felt Jesus saying, "Well you've come back and found your spiritual home." And I would have run out the door and never come back that day if I had thought I would become a priest. I never dreamed I would be a priest. But in the providence of God, here I am.
I would like to speak not only to you, but to the whole world, and say, "God is beautiful. God is wonderful beyond telling. God is glorious. Our happiness is there. He is infinitely merciful. If I committed 5 million of the most atrocious sins in the world, God is such that He could say, "Adrian, I forgive you that and even worse. I can forgive anything. "I felt forgiven. And I have felt helped in my life, often in various difficulties, God is great.
This morning the story is about Hagar, a woman who is rejected and banished from the camp and her baby was dying under a bush from thirst and hunger. And at that moment God chose to draw close and say, "Don't you see there is water there? Don't you see I am with you? I will make this child a great nation." God did something superb and wonderful in her life. And let it be for you too, that in the worst moment, in the most downhearted, rejected moment of your life, when your heart is sore and hurt, that God draws close to you and says, "I love you. I choose you. I will make of you something. Put yourself in My hands, and surrender to God." How beautiful it is that God is a God of the bad times. Good news in bad times, and He loves you so much.
In the Gospel it's about these men who are tormented, disturbed, deeply disturbed in their mind and their spirit. I don't know if you know what that is like, but I know it myself. There are times in a teenage heart that you can be very disturbed, confused, angry, hateful, and all the rest. And I have been there. Self-hating, and hating others, and all the rest. Hating their parents...my parents are in heaven, but how they have earned it, putting up with me. At that moment, God can come. And I have felt it so often in my life. Giving peace to my disturbance. Giving a calming of my heart. Driving away something that troubles you. Freeing you from the evil that harms your life. And changing you from hate to love. From the negative to the positive. From despair to the hope of heaven that even you have. The worst of creatures, the best of Gods.
I'd like to say this morning one thing in this homily. I appeal to you as an ex-atheist, Love God. Love God deeply. Love God as much as you ever can. Because God loves you deeply. He loves you to the last drop of His blood shed on the cross. He loves you through sending Our Lady here, to draw us to pray more. He loves you in your worst sins. When we are muddy, He loves you. And all I say is as a church, as poor creatures stumbling along after our God, let us love God, really from your heart. The Heart that loves you, love that Heart. The Creator who created you, love that Creator. For every breath of air that you draw, for every footstep you take, for every day that you live.
On the last day of your life, when you draw your last breath, say, "Lord I thank you for the beauty of my life. Forgive me, Lord, for much. I love You. Let me be in Heaven to love You more, for eternity. That is all I ask You."
I believe in Our Lady the same. She shows us to pray. She shows us to fast. She shows us to convert our lives, to confess our sins, to say, "Lord, I want to move away from that." That we may love. That we may love.
And you see in this church today, 200 other people. What are they there for but to be loved, that you may love them...that you may pray for them. The biggest gift you can give to someone is to pray for them. Someone prayed for me, and won for me the grace, that I, an atheist, might believe, and delight in God, and discover the beauty of so glorious a Trinity. I absolutely believe it.
And I conclude again by saying the same thing....Love God... love God... love God. That is the center of our faith. In the name of the Father, the Son and the Holy Spirit, Amen. (Fr. Adrian, English Mass 07/01/15)
Love God....Love God....Love God!!!
In Jesus, Mary and Joseph!
Cathy Nolan
©Mary TV 2015
PS. Fruit Show

tonight

!! Don't miss it. Another priest whose vocation was born in Medjugorje!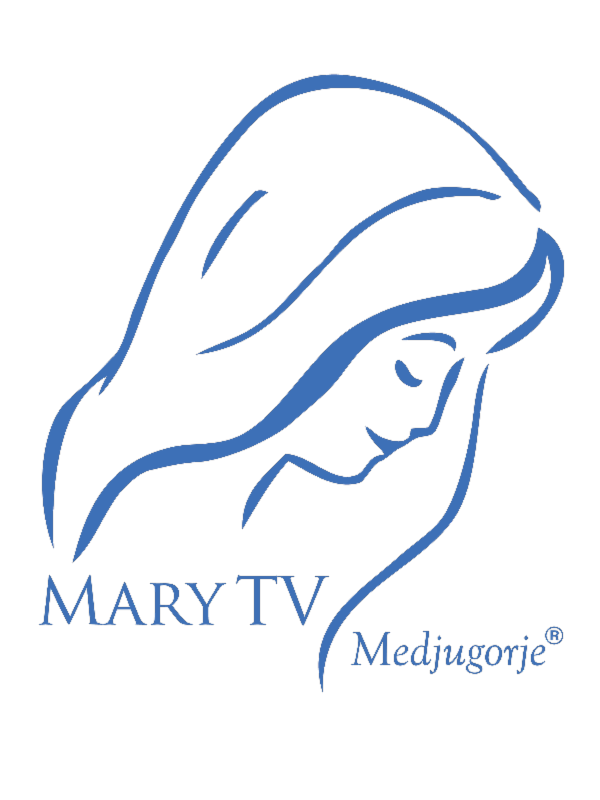 "Medjugorje is the spiritual center of the world."
Saint John Paul II
Be connected!
www.marytv.tv