Damascus, Syria " Our Lady of Soufanieh "
Since November 22, 1982 in Damscus, Syria, many unexplained Heavenly events have taken and still do take place. A woman named Myrna Nazzour receives messages from the Virgin Mary and Jesus. Oozing of 100% pure olive oil comes from an icon of the Virgin Mary in Myrna's home. Exudation of the oil from the face and hands of Myrna also happens. Myrna has lived the Passion of Christ many times with stigmatas.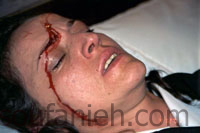 The holy oil that exudes from the icon has cured many people with physical illnesses and has caused spiritual healings. Many reproductions of the icon have also exuded the holy oil in more than 16 countries around the world.
The main message Our Lady of Soufanieh and Our Lord tell us is:
UNITY OF HEARTS
UNITY OF CHRISTIANS
UNITY OF THE FEAST OF EASTER