ChinaAid Delegation Heads to Washington, D.C., with Wives of Abused and Tortured Lawyers, Congressional Hearing Scheduled for Thursday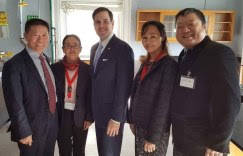 WASHINGTON,
May 15, 2017
/
Christian Newswire
/ -- A ChinaAid delegation comprised of the wives of abused and tortured Chinese human rights advocates is traveling to the U.S. capitol to spotlight their husbands' cases
on Thursday
.
Photo: China Aid delegation meeting with Marco Rubio
Invited by U.S. Representative Ed Royce, the Chairman of the U.S. House of Representatives Committee on Foreign Affairs, Lee Ching-Yu, wife of jailed Taiwanese NGO leader Li Ming-Che; Dr. Chen "Gloria" Guiqiu, wife of human rights attorney Xie Yang; Jin Bianling, wife of lawyer Jiang Tianyong; and Wang Yanfang, wife of attorney Tang Jingling, will all testify regarding their husbands' cases during a hearing before one of the committee's branches, the Subcommittee on Africa, Global Health, Global Human Rights, and International Organizations. The hearing will be held in Room 2172 of the Rayburn House Office Building in Washington, D.C., on
May 18, 2017
, at
2:00 p.m. EDT
.
According to Royce, the purpose of this gathering is to "examine the torture, disappearances, and detention of human rights lawyers and democracy advocates in China." As such, the witnesses will be presenting their husband's cases before the congressional audience.
The delegation will be in the capitol
Tuesday
-Thursday, and they will also be meeting with officials from the Trump Administration, members of Congress, and key NGO leaders.
In order to further spread awareness of abuses occurring in China, each of the witnesses and ChinaAid President Bob Fu, whose experience in a Chinese prison for preaching Christianity and connection to victims of similar atrocities led him to found the organization, will be available for interview. If you wish to arrange to speak with them, please contact Brynne Lawrence at
(432) 553-1080
or
media@chinaaid.org
.
ChinaAid hosts such delegations in order to expose China's human rights abuses to international leaders, which the Communist Party conceals, in hopes that those in the free world will act on behalf of those suffering for executing their right to freedom of belief and speech.
Contact ChinaAid