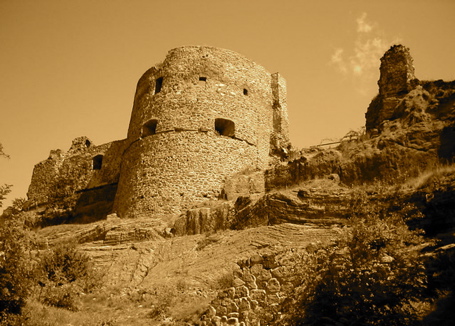 BASTION: part of a fortification built into a rock or castle which allows defensive fire in several directions.
IT BEGINS
These words came to a dear friend of ours during prayer, through a soft voice which spoke to her:
Tell Mark it is time to write about the bastion.
I have spent the past several days soaking in the meaning of this. It is a word which has overwhelmed me and filled me with great joy and anticipation. Accompanying that word were these in my own heart:
It begins.
Yes, Christ is the Rock upon which we are built—that mighty fortress of salvation. The bastion is its upper room. It is the place where the little ones are now to gather and to pray with intensity. It is the watchtower of prayer, fasting, and waiting—and to do so with commitment, intensity, and all seriousness. For it is coming. The great changes I have spoken about over the course of a year are now here. Those who are entering this upper room, that is, responding to the Gospel call to simplicity, child-like trust, and prayer can hear it: distant drums and an advancing army.
I wish to shout it to the Church this day:
THE CHANGE OF SEASONS IS AT THE THRESHOLD!
It is time to run to the bastion, to the upper room where Mary awaits you, to pray as she did 2000 years ago with the Apostles for the coming of the Holy Spirit. As Pentecost arrived then with a great wind, so too a great wind will precede this outpouring of the Holy Spirit. The winds of change are already blowing. The winds of war. I hear a soft voice riding aloft the gusts—the voice of a Lady:
Prepare! The Great Battle is here.
THE GREAT BATTLE
Yes, I see in my soul an advancing army, arrogant, violent, and rebellious. The call to the bastion, then, is also a call to preparation.
Prepare your soul for persecution. Prepare for martyrdom.
But friends, I sense an incredible joy in this word. It is as though we will experience within our beings a great anticipation of the crown which awaits us. That we will, through supernatural graces, even desire martyrdom. And so we must prepare by leaving behind this world, so to speak:
Christians must imitate Christ's sufferings, not set their hearts on pleasures. —Liturgy of the Hours, Vol IV, P. 276
We must expect persecution, expect to be hated, expect spiritual warfare and difficulties. It is the narrow road. For in denying ourselves, we will find the will of God, which is our food, our sustenance, our life, and the Royal Road which leads to an everlasting crown of glory. Embrace your suffering…

All who desire to live a holy life in Christ will suffer persecution. (2 Tim 3:12)
The call to the bastion is a defensive maneuver of Heaven. We have been asked to voluntarily dispossess ourselves of those things we do not need—a state of the heart which is fixed on Heaven, rather than on things. The reason is that now it is time to run to the bastion. We must travel light. Our hearts must be able to fly above the material possessions and cares of this world.
Since Christ therefore suffered in the flesh, arm yourselves with the same thought… (1 Pt 4:1)
We must be ready to move. The commands will come swiftly, and we must be listening. The call to the bastion is a call to intense daily prayer . We need to be very attentive now, leaving human wisdom and devices at the door. Mary is about to give each of her children their mission papers.
Yes, the bastion is the place of prayer, fasting, and listening, awaiting your set of orders.
So quickly, run to the bastion!
VOICE OF THE PAST AND PRESENT
By way of confirmation of this call to battle, my companion in Christ, Fr. Kyle Dave—unaware of this word I received above—sent me this at the same time. It is from Our Lady of La Salette, a message from September 19th, 1846:
I'm sending out an SOS. I'm calling all true disciples of the Living God who reigns in Heaven. I'm calling all true imitators of Christ made man, the only and true Savior of mankind. I'm calling all my children, all those who are truly devout, all those who have abandoned themselves to me so that I may lead them to my divine Son. I'm calling all those who I carry in my arms, so to speak, those who have lived in my spirit. Finally, I'm calling all the Apostles of the end of time, all the faithful disciples of Jesus Christ, who have lived in contempt for the world and themselves, in poverty and in scorn, in a life of silence, prayer and mortification, chaste and united to God, in suffering and unknown to the world.

It is time for them to go out and light up the earth.

Go and show yourselves as my dear children should go. I'm with you and in you, provided that your faith is the Light which lights you in these times of sadness. May your zeal make you famished for the glory and the honor of Jesus Christ.

Go into battle, Children of the Light, in just the small number that you are; because the time has come, the end is near. —Excerpt from the last manuscript of the secret of La Salette written by Melanie on 21 November 1878 and told by Fr Laurentin and Fr Corteville in The Secret of La Salette Discovered - Fayard 2002 ("Découverte du Secret de La Salette")
…live for the rest of your earthly life, no longer by human passions, but by the will of God. (1 Pt 4:2)