* February 24 – Our Lady of Verdelais (France) – 8th apparition of Lourdes (1858) * Our Lady of Verdelais, Consoler of the Afflicted for the past 900 years ---
February 24 – Our Lady of Verdelais (France) – 8th apparition of Lourdes (1858)
Our Lady of Verdelais, Consoler of the Afflicted for the past 900 years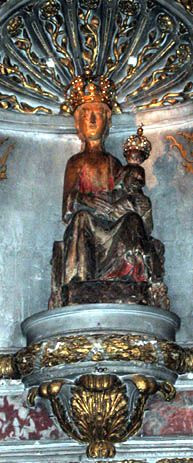 Verdelais is a small village amidst the Bordeaux vineyards, near Langon, France. It has had a Marian shrine since 1112, when a knight named Gerald de Graves, who had participated in the First Crusade, became a hermit and settled in the local forest where he built a chapel to house a statue of the Virgin Mary he claimed to have brought back from the Holy Land.

At his death, a community of monks came to keep the devotion going and welcome pilgrims. Many miraculous graces attracted a growing number of faithful. The shrine of Verdelais has survived for nine centuries, witnessed wars and revolutions, and was successively run by Marist monks, Passionists, and since 2007, Marianists, sons of Blessed William Joseph Chaminade.

From whichever direction pilgrims arrive at Verdelais, a golden statue of the Immaculate Virgin welcomes them, visible over the trees, perched atop the highest tower of the basilica dedicated to Our Lady Comforter of the Afflicted. From the basilica, one can go up to the top of Mount Cussol through a monumental Stations of the Cross leading to a large cross.

People come here in pilgrimage from March to November, especially for Marian feasts, on August 15th and September 8th, the patronal feast.

Gerald de Graves
[Images from http://ut-pupillam-oculi.over-blog.com/page/40]