* December 17 – The first church dedicated to Mary (Rome, Italy) * A miraculous snowfall in August ---
December 17 – The first church dedicated to Mary (Rome, Italy)
A miraculous snowfall in August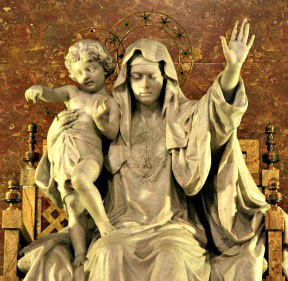 Santa Maria Maggiore (Saint Mary Major) is one of the four major basilicas of Rome, and the oldest Roman church dedicated to the Blessed Virgin Mary.
Tradition says that during the night of August 4, 358 the Virgin appeared in a dream to Pope Saint Liberius and to a wealthy Roman named John. She asked both men to erect a church at a specific place. In the morning, finding that it had snowed in the month of August at the location indicated by the Virgin, the Pope planned to have a basilica built dedicated to "Holy Mary of the Snows" on the spot where it had snowed on the Roman Esquiline Hill.
This basilica houses the first crèche made of stone, commissioned by Pope Nicolas IV in 1288 to Arnolfo di Cambio, to represent the Nativity scene. This tradition dates back to the year 432 when Pope Sixtus III (432-440) allegedly created inside the original basilica a "Grotto of the Nativity" inspired by that of Bethlehem.
The basilica also contains the relics of Saint Jerome. Since 1999, the pastoral activity of Saint Mary Major has been entrusted to the Franciscan Friars of the Immaculate.
The Mary of Nazareth Team