December 15 – Mary Mediatrix
Lo and behold, 250 Christians were waiting for the kidnapped priest!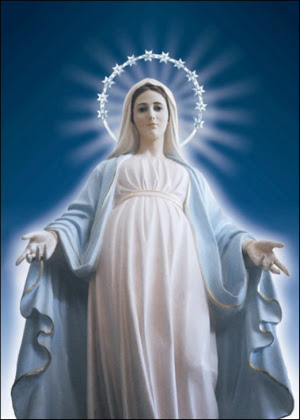 Father Jacques Mourad, a priest from the Syriac Catholic Diocese of Homs in Syria, who was kidnapped on May 21st in his convent of Qaryatayn by a group from the "Islamic state" regained his freedom on Saturday, October 10, 2015. During the four months of his captivity, he was imprisoned in Raqqa (central Syria).
His jailers tried to pressure him and his deacon Boutros to convert to Islam by threatening them with decapitation. They never yielded.
To withstand this suffering, Father Jacques prayed daily to the Virgin Mary, especially under her title of Our Lady of Lourdes. Through prayer, he found inner peace—he felt the prayers of the outside world said on his behalf, but didn't believe that he would be released, and thought everyday about the possibility of being killed.
On the 83th day of his captivity, a fighter asked for Jacques Mourad. The priest stood up. The man told him: Every single day people have been telling us to give them back Father Jacques...
The fighter took the priest and Boutros to Palmyra, had them enter a house, removed their blindfolds and pushed the door open. "Lo and behold, there were 250 Christians from Qaryatayn" in the room waiting…