'Inside Islam: A Guide for Catholics'

By 
Matt C. Abbott
The following are excerpts from
Inside Islam: A Guide for Catholics
, authored by Daniel Ali and Robert Spencer. The first excerpt is the book's foreword, written by Father Mitch Pacwa, S.J. The second excerpt is the text from pages 122–125 (much of the book's content is in question-and-answer format). Thanks to Matthew Pinto and Michael Flickinger of Ascension Press for allowing me to reprint this material.
Foreword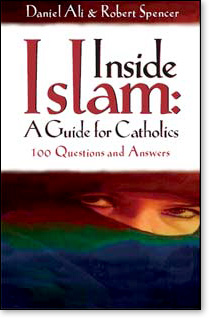 Islam glories in the clear simplicity of its doctrine and demands. The faith of the Muslim can be understood by the least educated person, and the religion offers a promise of eternal happiness in a paradise appealing to the senses. Muslims criticize Christianity for a number of reasons, but chief among them is that Christianity is too complex a mystery to be true. Furthermore, the belief in a heaven where the blessed see God face-to-face seems blasphemous to the Muslim.
Inside Islam: A Guide for Catholics is especially for those Christians who want to submit to Jesus' command to make disciples of all nations. This book is definitely not for the timid or indifferent Catholic. It is for those who truly want to explore the mystery that is Islam, so that they might be better prepared to proclaim the saving truth of Christ to their Muslim neighbors. No one who is beginning to confront the reality of Islam should be without this book. May God bless all who read it. — Fr. Mitch Pacwa, S.J.