The Angelus
(c) Mary TV 2013
J.M.J.

St. Andre Bessette
Dear Family of Mary!
Our entire area is shut down today due to blizzard conditions! Everything is covered in deep snow, and I am going nowhere! So I took time to transcribe a beautiful homily, given on January 5, 2014 by Fr. Dermot Roache, at the English Mass in Medjugorje. Fr. Roache talks about the meaning of Christmas! It is a wonderful homily for meditation:
Fr. Dermot Roache:
In the four Gospels that we are used to, the three Synoptics, Matthew, Mark and Luke, and this, the Gospel of John...the three Synoptic Gospels tell the story of Jesus' birth either through the genealogy of Jesus, going back from the generations, three groups of 14 generations, or through the story of His birth we are so fond of in Matthew and most especially told in Luke. But John starts his Gospel with this passage (John 1:1ff). John has an understanding of Jesus, the Second Person of the Trinity, Who is, Who was and Who will be, and starts to explain a mystery we can't grasp. John does not tell the nativity at all. But he talks about the Word.
For most of us, when we hear it, we hear "The Word" and I remember as a young man hearing this Gospel and wondering what is this Word all about. The Word doesn't become Jesus until Mary said "yes". But I want to explain a little bit further what John was trying to explain, and I think it is more clearly explained in St. Paul's letter to the Ephesians.
Blessed be the God and Father of our Lord Jesus Christ, who has blessed us in Christ with every spiritual blessing in the heavens, as he chose us in him, before the foundation of the world, to be holy and without blemish before him. In love he destined us for adoption to himself through Jesus Christ, in accord with the favor of his will, for the praise of the glory of his grace that he granted us in the beloved. (Eph. 1: 3-6)
We are called to holiness. And again for the third time, I am here giving the homily this week, I have to go back to the theme of the story of creation. The reason this all came to be was because of the falling of man from grace. We were created to be perfect, and through free will, Adam and Eve chose another path, to have knowledge. And the knowledge, that was the Tree of Knowledge, was the knowledge that had darkness, sin, sickness, all sorts of things that they didn't know prior to that. And that same wood of the Cross, as we know, that Christ put Himself on, was the symbol of the Tree of Knowledge, that restored all of our fallen Humanity.
Our human frailty, is assumed into the Word. Our human frailty is assumed into Jesus Christ, to bless us, to restore us, to strengthen us, and the list goes on...And I think it is very important to realize that what happened at the Incarnation rattled the world to its inner core. People today, as I mentioned the other day, are even getting offended now when we speak about God publicly, when we speak about Jesus Christ publicly.
I can give an example of Ireland. Ireland has the Angelus every day on television for the country to pray. It used to be prayed as the Angelus, where the Angel of the Lord declared unto Mary and she conceived of the Holy Spirit, and the Word was made flesh! He became one of us and dwelt among us. And through all of the relativism's I spoke about during this week, now they call it a moment of prayer, so that other religions won't be offended. Imagine...a truth for all of humanity that the Word, Christ, came to this earth to share in our humanity...that wonderful exchange! And some people are offended. Many people of the younger generation don't even know the prayer of the Angelus. The demons flee at those words, "The Word became flesh and dwelt among us." Because Jesus Christ is Lord.
And as we are closing up the Christmas Season,

tomorrow

we share in the Epiphany, and then soon we enter into the Baptism of the Lord and Ordinary Time, as the rhythm of life continues we must go back all the time to reflect, "What does Christmas mean?" Christmas is the love of God come down to the earth where He takes at that moment our human frailty and takes it upon Himself. You are not alone. I'm not alone. We are never alone. He knows our weaknesses. He knows our strengths. He knows who he made and He knows that His mercy, through the power of His passion, death and resurrection, His mercy is greater than any of our sins. His mercy is greater than any of our sicknesses. His mercy is greater than anything in this world. No questions asked. He gives it to us freely. Freely.
And as we reflect on that today, in our humanness, we also need to reflect on the humanness of a Mother, who chose freely to say "yes". Who in that choice watched her Son suffer, but she also watched Him rise. And she says to us every day, "Come back to Him, Who as it is said here, is Life. Come back to my son, Who is Hope. Come back to my Son Who is Peace. That's the call. And when we see in the Creche, the silence of adoring the Lord, and Mary and Joseph in profound silence, looking... they recognize Life, Hope and Peace.
For all of us who continue our journeys and our pilgrimages, let us go home, continuing our pilgrimage, knowing that in the Incarnation we share in the Divinity of a God who loves us so much that He was willing to lower Himself to share in our humanity. Why? Because of every creature created on this earth, nothing is (not was) more beautiful in the eyes of God than the human being He places here. And in our souls, He wants to live. He wants to be that Word, and He wants us to be assumed into His live through our souls.
Today we thank Mary for saying "yes". Today we thank our parents for giving us faith. We thank ourselves for renewing our faith. And in a very special way today, we thank God for sending His Son to us to share in our humanity. And to save us, that we may share in His Divinity in eternal life. May He Who is Love and Mercy itself, penetrate our hearts and our minds today. May the love of the Mother who so willingly gave her Son that we may have life, may she guide us by the hand, and lead us closer to her Son Who is Life, Who is our Hope, Who is our Peace. God love you.
Thank you, Fr. Roache, for this deep and beautiful homily. I want to especially point out the reality of the Angelus that Fr. Roache spoke of. The Angelus is a powerful prayer, because is recalls the deepest reality of Jesus' Incarnation and Redemption. And in the process, the demons flee. Yes, I believe that the Angelus is a form of deliverance prayer for our daily lives, for our homes, our neighborhoods, and our countries. And that is why it is so important to say, daily. The devil cannot stand these holy words.
And it is really amazing to me that this week, even as this homily was given, Mary TV has begun streaming a half hour of prayer, live, from the holy spots in Medjugorje, on our website. This half hour occurs during the time of the daily apparition. And it ends with the Angelus, prayed at the church before Mass. So we are going to be able to join together for the Angelus from the four corners of the earth! We will be praying this powerful prayer together, gathered through the internet in Medjugorje!
I believe this is a new gift that Our Lady is giving us, a new way to help her in her work to save the world!
In Jesus, Mary and Joseph!
Cathy Nolan
©Mary TV 2014
PS. Join us for this time of prayer in Medjugorje at www.marytv.tv from

11:30 am EST to 12:00 noon

(

5:30 pm to 6:00 pm

Medjugorje time).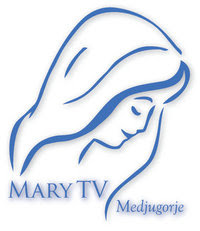 "
Medjugorje is the spiritual center of the world!"
Blessed John Paul II -
Be connected!