We need the Mother of God!
(c) Mary TV 2014
J.M.J.


January 7, 2014



Dear Family of Mary!

December 25, 2000
The apparition began at

3:20 pm

and lasted ten minutes. Our Lady came joyful with baby Jesus in her arms. She blessed everyone and gave a message:
"Dear children! Today when Jesus is born and by His birth brings immeasurable joy, love and peace, I call you, in a special way to say your 'yes' to Jesus. Open your hearts so that Jesus enters into them, comes to dwell in them and starts to work through you. Only in this way will you be able to comprehend the true beauty of God's love, joy and peace. Dear children, rejoice in the birth of Jesus and pray for all those hearts that have not opened to Jesus so that Jesus may enter into each of their hearts and may start working through them, so that every person would be an example of a true person through whom God works."


Still snowed in here, and so I had time to transcribe another homily by Fr. Dermot Roache. This one was given on the Feast of the Mother of God, and it is very powerful! Allow me to share his words with you! They are powerful! I chose the message above because it reflects so much what Fr. Roache teaches us.

Fr. Dermot Roache
Feast of the Mother of God
January 1, 2014 - Medjugorje
Two days ago I was giving the homily, and I will backtrack because I believe that this is important because we are still in the Christmas season and the same message has to be brought across. And for those of you who weren't here the other day I had mentioned that at the preparation of the gifts, if we are watching we notice there is an inaudible prayer given by the priest when he is putting the water into the wine (the tincture in the chalice) and what he says is, "By the mystery of this water and wine, may we (the people of God) come to share in the divinity of Christ who humbled Himself to share in our humanity. That is the essence of the Incarnation. The very fact that God Himself chose to come from his majestic paradise, not in any other form, but in the form of a human being, to understand every part of us, our needs, our concerns, our joys, our sicknesses, our confusions.
And in doing so He chose to be a vulnerable child, vulnerable. He chose a woman whom He made perfect, so that He could share nine months in her womb, so that she could give birth, and present Him to the world. And she knew that by presenting Him to the world, He was the key to buying our salvation. The Woman made a very difficult decision, knowing that someday He would have to be given up. So what happens here at the altar is very intimately linked with the Mother of Jesus. It has to be. She was not and is not just a vessel that brought Christ into the world.
The two most intimate points in salvations history are the Incarnation which we celebrate at Christmas, and the Redemption. They have to be intimately connected. And in both events, the Mother was there. And what makes this a most important day for us is that on the Cross, He turned to her in His final offering on the earth, His final offering, and He said "Mother (who He now calls Woman), do you see these people? They are your children." And then to John, who represents us, He says, "Son, that's your Mother." What greater gift?
And if you really and truly want to know who Jesus is, if you really and truly want to know the Son, get to know the Mother. And any mother will tell you about their own child. I know my mother reminds me all the time. She says, I don't care if your 60, I am still going to tell you about you. When we learn to have a relationship with Mary, Mary teaches us how to have a deeper relationship with Jesus. And it's all linked to the Incarnation because our humanness, our fallen nature, is restored forever in the Passion, Death and Resurrection of Christ Himself. She is intimately linked to every aspect of our human daily activities because without her, Christ wouldn't be here...because she said 'Yes"!
We here say 'yes' too. And for our loved ones out there who may not be ready to, go to the Mother. Talk to her. Tell her all the needs of your family, of your life, of your concerns. Believe me, when she was given to us on the cross, she knows everything about us. Everything. And she's not afraid to help us.
And for 33 years, coming here to Medjugorje, it is not because she has nothing better to do in heaven. It's because she is a Mother, deeply concerned. And the very first time she came, on June 24 1981, she came with her Son as the Infant, to say that "I as the Mother want to bring the Son to you." What better way to start this year than to start it giving honor, glory, and praise to the Mother of Jesus, to the Mother of our God, who is here for us, to help us at every moment, to teach us to come closer to the Savior of the World, Jesus Christ. God love you all.
Our Lady is the Mother, and she has come to help us, to guide us, to bless us, and to protect us. We need her more now than ever. May we turn to her in our every need, at every moment of our day. She has come to be with us in these days!
In Jesus, Mary and Joseph!
Cathy Nolan
(c)Mary TV 2014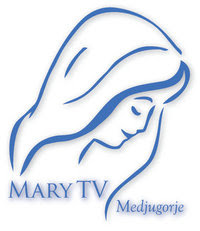 "
Medjugorje is the spiritual center of the world!"
Blessed John Paul II -
Be connected!