Our Lady of Guadalupe
J.M.J.
Today is the beautiful feast of Our Lady of Guadalupe. She is the patroness of the Americas. She appeared to Juan Diego, a peasant in Mexico, in 1531, and through this simple man she revealed her presence and love to the people of Mexico, great and small. Her image on the tilma of St. Juan Diego has survived to this day, a true miracle which testifies to her apparitions to him, and her gift of grace and conversion to the people of the Americas.
What has always touched me about Our Lady's apparitions to Juan Diego is the tenderness with which she related to him. She was so loving, humble, gentle and patient with Juan Diego. Her famous words of comfort to him when his uncle was ill have stayed with me. Here they are:
With a look of great love, Mary smiled at him and gently chided him for his doubts, ""Do not let anything afflict you, and do not be afraid of any illness, or accident, or pain. Am I not here who am your Mother? Are you not under my shadow and protection? Do you need anything else?"
Do not be afraid...Am I not here who am your Mother?...Are you not under my shadow and protection?....Do you need anything else?...
These words are full of comfort and peace. This is Our Mother! She has spoken similar words to the visionaries of Medjugorje. Here are a few examples:
...Be patient, my angels, do not be afraid of anything.I am at your side and guard you. If you have any problems, whatever it be, call me. I will come immediately and help you in advising you on best resolving the difficulty. Go in peace, my angels. Goodbye."
"Dear children! Today I call you, through prayer, to open yourselves to God as a flower opens itself to the rays of the morning sun. Little children, do not be afraid. I am with you and I intercede before God for each of you so that your heart receives the gift of conversion. Only in this way, little children, will you comprehend the importance of grace in these times and God will become nearer to you. Thank you for having responded to my call."
June 2, 2007
"Dear children! Also in this difficult time God's love sends me to you. My children, do not be afraid, I am with you. With complete trust give me your hearts, that I may help you to recognize the signs of the time in which you live. I will help you to come to know the love of my Son. I will triumph through you. Thank you."



January 2, 2010

"Dear children, Today I am calling you to, with complete trust and love, set out with me because I desire to acquaint you with my Son. Do not be afraid, my children, I am here with you; I am next to you. I am showing you the way to forgive yourselves, to forgive others, and, with sincere repentance of heart, to kneel before the Father. Make everything die in you that hinders you from loving and saving, that you may be with Him and in Him. Decide for a new beginning, a beginning of sincere love of God Himself. Thank you."
Our Lady has consistently demonstrated her motherly presence and solicitude for almost 33 years. Do we need anything else???
Also, when we live in this trusting and intimate way with Our Lady, we become like Juan Diego, we become carriers of her presence to others. As Denis said to us today during the Daily Rosary, we become the tilma! We are living proof of Our Lady's presence and love, because she shines on our faces.
Our shipmate on the digital sea, Reuben, said it this way:
I just feel so privileged to be here; to see us all become the tilma! This is real, real as the rose Mary sent my family on the first day of this advent, real as all the angelic hosannas of every Eucharist, real as Mary's presence in Medjugorje, and real as the communion of saints we gather into our great boat of prayer! Praise be!! I want to be closer to Jesus, I want the spirit poured into me, but I can't do it without Mary's immaculate mold. She gives it freely, she comes to do so!!
We become the tilma together as we pray in response to her call and live her messages! So, like St. Juan Diego, may we proceed without fear, knowing that Our Mother is with us and we are under her protection and care.
In Jesus, Mary and Joseph!
PS. The rose Reuben mentions was a supernatural gift given to his mother in law the other day. Here is the story:
I have attached a picture of a present left on my mother in law's kitchen table during this first

Sunday

in advent. The house was locked and no one has a key, and while we were all out doing our separate things, a perfect white rose was left for our return. My mother in law has been struggling to nourish her faith after the passing of her husband. Her husband was on earth a faithful Irish man with a great love for the rosary. What a joyful look was on my wife and mother in law's faces, and what a joyful start to our advent. I want to share it with you all at Mary TV because it was not possible for me to pray with you on the digital sea over these last few days, and so you were all very acutely present in my own personal rosary during the hours preceding such a precious gift...
Thank you, Reuben, for sharing this gift from heaven for your family!!!
(To watch the recorded version of the Daily Rosary for 12/11/13 please go to the Archived Rosaries link on the Home page. Our website is under reconstruction and some functions are not working. Thank you for your patience! Almost done!)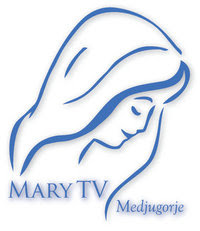 "
Medjugorje is the spiritual center of the world!"
Blessed John Paul II -
Be connected!