Christmas Eve!
Giving thanks!
(c) Mary TV 2013
J.M.J.
Christmas Eve
Dear Family of Mary!
"Dear children! Today when God granted to me that I can be with you, with little Jesus in my arms, I rejoice with you and I give thanks to God for everything He has done in this Jubilee year. I thank God especially for all the vocations of those who said 'yes' to God completely. I bless you all with my blessing and the blessing of the newborn Jesus. I pray for all of you for joy to be born in your hearts so that in joy you too carry the joy I have today. In this Child I bring to you the Savior of your hearts and the One who calls you to the holiness of life. Thank you for having responded to my call." (

December 25,2000)



There is a deep connection between thanks giving and joy. Our Lady demonstrates it in her message of Christmas 2000. She tells us how she gives thanks to God for everything He has done in the Jubilee year of 2000. Then she wishes that we could also carry the joy that she has. She reminds us of all that Jesus has brought into our lives, salvation, forgiveness, union with the Father, etc. And she encourages us to realize it all, with thankful hearts. Why, because joy comes to those who give thanks. Giving thanks to God is really admitting the truth! Everything comes from Him and everything is His!! We can only receive.
What joy! What deep joy is available to us, if we listen to Our Lady! On this Christmas Eve, as we await the celebration of Jesus' birth, let's fill our hearts to the brim with thankfulness. For every little detail of our lives, let's thank Jesus. And then, with Our Lady, we will be filled with joy!
In Jesus, Mary and Joseph!
Cathy Nolan
©Mary TV 2013
PS. I give thanks for all of you who have joined me in pondering Our Lady's messages over the years! You are a great blessing to me!

Tomorrow

I will send out the message when I get it. Dearest Mother, we await your Christmas message for 2013, with all our hearts!!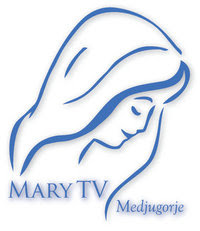 "
Medjugorje is the spiritual center of the world!"
Blessed John Paul II -
Be connected!