* November 4 – Our Lady of Potsch (Mariapocs) in Vienna and Hungary * The Virgin of Mariapocs drove out the Turkish invader ---
November 4 – Our Lady of Potsch (Mariapocs) in Vienna and Hungary
The Virgin of Mariapocs drove out the Turkish invader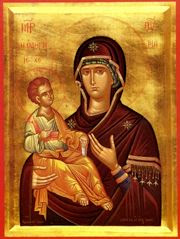 orthodoxwike image
The shrine of Mariapocs is a Catholic church of Byzantine rite located in a small Hungarian village bordering Russia. The image venerated there is an ancient icon of Mary "Hodegetria" (Who Shows the Way).
On November 4, 1696, the faithful attending Mass in the village's Greek Catholic church saw the Virgin of the Hodegetria icon shed tears. The occurrence was repeated several times until December 8th (the feast day of the Immaculate Conception) and was witnessed by countless people, who even came from neighboring countries.
The priest gathered these precious "pearls of mercy" in a silk handkerchief and sent them to the local bishop. Investigation confirmed the supernatural origin of the occurrence. Then the emperor of Austria-Hungary, Leopold I, ordered that the icon be transferred to Saint Stephen's Cathedral in Vienna, Austria.
It should be noted that the miraculous tears of the "Hodigitria" in Mariapocs occurred in 1696, three years after Emperor Leopold I renewed the national act of trust to Mary. The following year, in 1697, the Turks were driven out of the Austro-Hungarian territory permanently.
The Mary of Nazareth Team

Wikipedia image