November 29 – The Virgin with the Golden Heart (Beauraing, Belgium, 1932)
What do you want from us?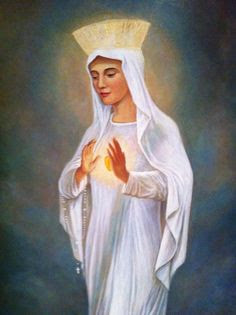 Image from Pinterest
In Beauraing (diocese of Namur, Belgium), the Virgin Mary appeared 33 times to five children, from November 29, 1932 to January 3, 1933. The children were the Voisin siblings: Fernande, 15, Gilberte, 13, and Albert, 11 and the Degeimbre sisters: Andrée, 14 and Gilberte, 9 years of age.
On December 29th, when the Virgin opened her arms as a sign saying of good-bye, the children saw her heart lit up as if it were made of gold. Hence the name given to Our Lady of Beauraing—the Virgin with the Golden Heart. This "golden heart" recalls the apparition of Our Lady of Fatima's Immaculate Heart.
On December 2, 1932, the children asked her: "What do you want from us?" Mary spoke for the first time: "For you to be good." On December 21st, their next question was: "Tell us who you are," to which she replied: "I am the Immaculate Virgin."
On January 3rd, Mary entrusted a secret to the three youngest children. She promised: "I will convert sinners," and gave her name again: "I am the Mother of God, Queen of Heaven. Do you love my Son? Do you love me? ... So, sacrifice yourself for me. Farewell."
The authenticity of the facts was proclaimed on July 2, 1949, by the bishop of Namur, Bishop Charue.

Bishop André-Marie Charue, bishop of Namur