Extend the joy of love...
(c)Mary TV 2012
J.M.J
Dear Family of Mary!
Tomorrow

is the Presentation of Jesus in the Temple! Our novena ends today, in anticipation of this great feast! We have been praying for priests these 9 days and it has been a great joy!!!
Novena for Priests - Day 9
"Dear children...extend the joy of love and support to your shepherds, just as my Son has asked them to extend it to you. Thank you." (July 2, 2013)



Sr. Briege McKenna:
During a priests' retreat, a priest came to me for ministry, and as I was praying with him, I got a beautiful picture of Jesus. He was kneeling on a rugged road holding the priest's hands and saying to him, "Robert, forgive yourself, I have forgiven you. Come back to me. Remember the story of the prodigal son. That was you. I'm waiting for you to come back to me. Forgive yourself and return to me again."
I told him, "Father, I don't know what's wrong in your life, but the Lord has really forgiven you for the mistake you made."
The priest broke down and then he told me that he had made a terrible mistake, that he had very rashly made a decision that caused a lot of scandal. He took a leave of absence and went home to his parents. Every morning he would go into the parish church in his parents' home town and weep, telling God what a terrible mistake he had made. He felt he could never go back, that the bishop would be angry with him and would not welcome him.
One day, after a whole year, he read the story of the prodigal son in Luke 15. He got the courage to go back to see his bishop. He said, "I got on my knees and begged the bishop to forgive me and asked him to take me back." You know, sister Briege, I will never forget what the bishop did. The bishop was sitting at his desk. He got up and came around the desk and took me in his arms. He said, like a father to a son, 'Robert, I'll take you back. Jesus has forgiven you and so do I. But I want you to do one thing. I want you to go to Sister Briege's retreat and I want you to come back to me after the retreat and tell me how you got on. I'll place you in a parish.'
Robert had a tremendous experience. It totally changed his life. He came to know the mercy and love of Jesus. I think he also experienced the tenderness and compassion and the fatherhood of his bishop. The bishop didn't condemn him or blame him for the shame he had brought on the diocese, even though it was true. Instead, he received his priest in love, as Jesus had. We need to pray that every priest and bishop will have the heart of a father, and will discern how to respond in love in any situation. (Sr. Briege McKenna. "Miracles Do Happen". P.89-90)
A PRAYER FOR PRIESTS

Keep them, I pray Thee, dearest Lord. Keep them, for they are Thine
The priests whose lives burn out before Thy consecrated shrine.
Keep them, for they are in the world though from the world apart.
When earthly treasures tempt, allure - Shelter them in Thy heart.
Keep them and comfort them in hours of loneliness and pain,
when all their life of sacrifice for souls seems but in vain.
Keep them and remember Lord, they have no one but Thee.
They have only human hearts, with human frailty.
Keep them as spotless as the Host, that daily they caress;
their every thought and word and deed, deign, dearest Lord, to bless.
Lord Jesus, please give us all hearts that forgive and accept forgiveness so that we can heal our Church and our world. May Your Sacred Heart be the source of our forgiveness and love for our priests and their forgiveness and love for us!
In Jesus, Mary and Joseph!
Cathy Nolan
©Mary TV 2014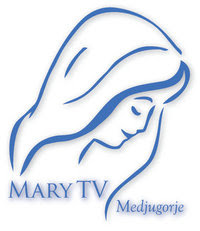 "
Medjugorje is the spiritual center of the world!"
Blessed John Paul II -
Be connected!