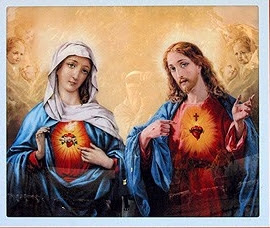 The Immaculate Heart of Mary and
the
Sacred Heart of Jesus
J.M.J
The Most Sacred Heart of Jesus
Dear Family of Mary!
There is a beautiful message that Our Lady gave us in 1988 that I want to share today on The Feast of the Most Sacred Heart of Jesus. In this message Our Lady shares her heart with us. And her heart is full of the desire for us to draw close, to draw close to her and to her Son, Jesus. This message says so much. Let us meditate upon it today with gratitude and security.
"Dear children! My invitation that you live the messages which I am giving you is a daily one, specially, little children, because I want to draw you closer to the Heart of Jesus. Therefore, little children, I am inviting you today to the prayer of consecration to Jesus, my dear Son, so that each of you may be His. And then I am inviting you to the consecration of my Immaculate Heart. I want you to consecrate yourselves as parents, as families and as parishioners so that all

belong

to God through my heart. Therefore, little children, pray that you comprehend the greatness of this message which I am giving you. I do not want anything for myself, rather all for the salvation of your soul. Satan is strong and therefore, you, little children, by constant prayer, press tightly against my motherly heart. Thank you for having responded to my call." (October 25, 1988)
Let's renew our consecration to the Sacred Heart today. Here is the prayer dictated to Jelena by Our Lady:
Consecration to the Heart of Jesus

(Given by Our Lady to Jelena Vasilj, 11/28/1983)

O Jesus, we know that You are sweet (Mt.

11:29

).
That you have given Your heart for us.
It was crowned with thorns by our sins.
We know that today You still pray for us


so

that we will not be lost.
Jesus,

remember

us if we fall into sin.
Through Your most Sacred Heart,


make

us all love one another.
Cause hatred to disappear among men.
Show us Your love.
All of us love You.
And we desire that you protect us with Your
Heart of the Good Shepherd.
Enter into each heart, Jesus!
Knock on the door of our hearts.
Be patient and tenacious with us.
We are still locked up in ourselves, because we


have

not understood Your will.
Knock continuously, Oh Jesus.
Make our hearts open up to you,


at

least in reminding us of the passion


which

you suffered for us. Amen
English: Emblem of the Missioners dels Sagrats Cors, with the Sacred Hearts (Photo credit: Wikipedia)
And since

tomorrow

is the Feast of the Immaculate Heart of Mary (and I usually take

Saturday

off), here is the consecration prayer to the Immaculate Heart that Our Lady gave to Jelena as well:
Consecration to the Immaculate Heart of Mary
(Given by Our Lady to Jelena Vasilj, 11/28/1983)

O Immaculate Heart of Mary, overflowing


with

goodness, Show us your love for us.
May the flame of your heart, Oh Mary,
Descend upon all peoples.
We love you immensely.
Impress in our hearts a true love.
May our hearts yearn for you.
Oh Mary, sweet and humble of heart,
Remember us when we sin.
You know that all mankind are sinners.
Through your most sacred and maternal heart,


Cure us

from every spiritual illness.
Make us capable of looking at the beauty of your maternal heart,
And that, thus, we may be converted


to

the flame of your heart. Amen
Let's press tightly against Our Lady's motherly heart, as she suggests and she will lead us to Jesus.
In Jesus, Mary and Joseph!
Cathy Nolan
©Mary TV 2014
PS. I want to let you know about a wonderful new feature on our web page, www.marytv.tv We have two new links on our home page. Apparition Hill and Cross Mountain are now being streamed on demand 24/7!! Just go to these new links and you are one click away from the mountains!