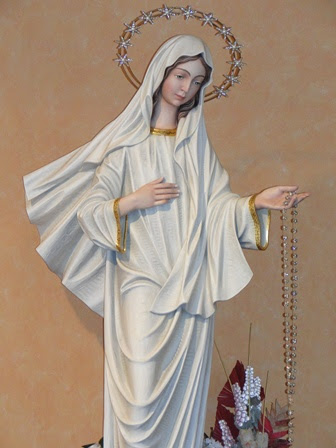 Our Lady, Queen of Heaven and Earth
J.M.J
Feast of the Queenship of Mary!
Our Lady is a Queen. She is comfortable with this title. When introducing herself to the visionaries in Medjugorje, she called herself a queen:
"I am the Queen of Peace." (Thursday, August 6, 1981)
She is comfortable with this title because she was given it by God the Father! And she has received her position as Queen of Heaven and Earth due to her election as Mother of Jesus, the Savior and King of the Universe! Fr. William Most explains it very well in a short article found on the EWTN website. He quotes Pope Pius XII:
The solidly theological reasons for her title of Queen are expressed splendidly by Pius XII, in his Radio message to Fatima, Bendito seja (AAS 38. 266): "He, the Son of God, reflects on His heavenly Mother the glory, the majesty and the dominion of His kingship, for, having been associated to the King of Martyrs in the unspeakable work of human Redemption as Mother and cooperator, she remains forever associated to Him, with a practically unlimited power, in the distribution of the graces which flow from the Redemption. Jesus is King throughout all eternity by nature and by right of conquest: through Him, with Him, and subordinate to Him, Mary is Queen by grace, by divine relationship, by right of conquest, and by singular choice [of the Father]. And her kingdom is as vast as that of her Son and God, since nothing is excluded from her dominion."
Pretty awesome!! Don't you just love it! "Queen by grace, by divine relationship, by right of conquest, and by singular choice [of the Father]." God the Father is the maker and breaker of kings and queens, and He has chosen Our Lady to be the Queen of Heaven and Earth. And I love the added reason, that she is queen by "right of conquest". This conquest was the victory over sin and death that Our Lady contributed to by her submission to Jesus and her courageous cooperation with Him. Our Lady chose to suffer with Jesus, and to go the way of the Cross with Him, so that all could be saved by Him. She cooperated perfectly with Jesus' act of redemption. And so she has the "right of conquest". Wow! She really is a mighty queen.
I wish we had been able to do a novena in honor of this feast today! Maybe today we can honor Our Lady by saying nine times the Salve Regina (Hail Holy Queen)! We love you, dearest Queen, and we submit to you all that we are and have, so that your rule will prevail in our hearts, and we can serve Jesus, our King, through your help.
Hail, holy Queen
Hail, holy Queen, Mother of mercy, our life, our sweetness and our hope. To thee do we cry, poor banished children of Eve. To thee to we send up our sighs, mourning and weeping in this valley of tears. Turn, then, most gracious advocate, thine eyes of mercy toward us, and after this, our exile, show unto us the blessed fruit of thy womb, Jesus. O clement, O loving, O sweet Virgin Mary.
V. Pray for us, O holy Mother of God.
R. That we may be made worthy of the promises of Christ.
Let us pray. Almighty and everlasting God, Who by the working of the Holy Spirit didst prepare both body and soul of the glorious Virgin Mother, Mary, that she might deserve to be made a worthy dwelling for Thy Son, grant that we who rejoice in her memory, may, by her loving intercession, be delivered from present evils and from lasting death, through the same Christ our Lord. Amen.
In Jesus, Mary and Joseph!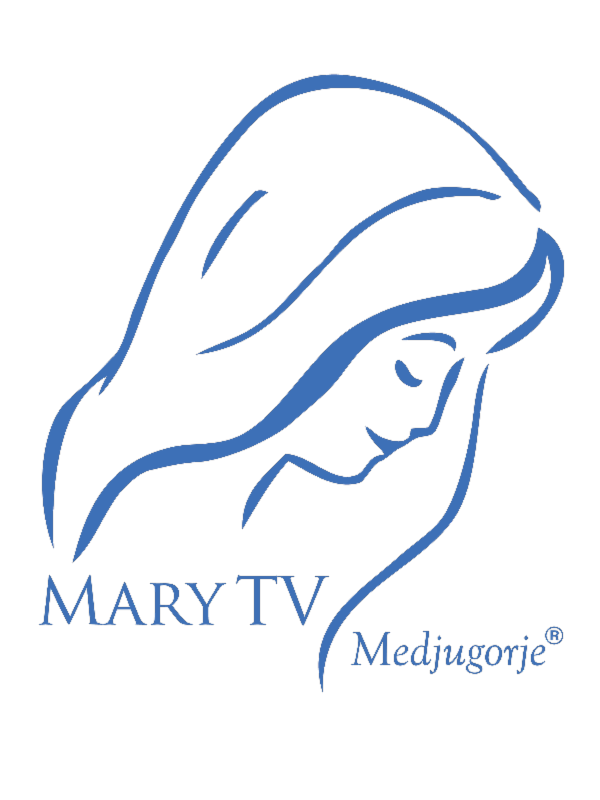 "Medjugorje is the spiritual center of the world."
Saint John Paul II
Be connected!
www.marytv.tv