Fr. Ljubo Kurtovic
J.M.J
November 13, 2014
St. Frances Xavier Cabrini
Dear Family of Mary!
"Dear children, I am with you with the blessing of my Son, with you who love me and who strive to follow me..." (November 2, 2014)
Today I offer you the first half of the transcript of a talk given in the John Paul II Hall in Medjugorje by Fr. Ljubo

Kurtovic

on October 30, 2014. Fr. Ljubo speaks with great simplicity and depth about Medjugorje, and the meaning of Our Lady's presence there. He understands why Our Lady is with us!
Fr. Ljubo Kurtovic, October 30, 2014:
I greet you all, welcome to Medjugorje! I would like to know how many of you present here are in Medjugorje for the very first time. So not many of you are here for the first time. So then you know everything about Medjugorje!! My name is Fr. Ljubo Kurtovic. I am a priest for 18 years already. I had the grace to serve here in Medjugorje as a chaplain, vicar, for 7 years, from year 200 to 2007. And I came to Medjugore for the first time in 1982. I was born in a place that is 50 kilometers from Medjugorje. And when we came for the first time, I remember, we walked on foot. And I recall only the pain in my feet! I was 13 years old at the time. And you can imagine, a 13 year old boy, how he could experience and see Medjugorje.
The faithful of the area would come to Medjugorje in big numbers for the anniversary of the apparition, or for the Feast of the Holy Cross which is the first

Sunday

after the Nativity of Our Lady. I am not one of the visionaries. I never saw Our Lady. But I can say that I am a priest because of Our Lady. And I thank her for that. I was stubborn and Our Lady needed to take a little bit more time with me than maybe with someone else.
You all know that the apparitions are still taking place. How long the apparitions will last, I don't know. Some people say, how is it possible that Our Lady has been appearing for this long, with so many messages, so many apparitions. But we cannot use our own way of measuring with God. God is free to speak to us in His way! So our measuring could be an obstacle to come to God.
As the visionaries witness, Our Lady came for the first time here, holding Baby Jesus in her arms. It was up on Apparition Hill. On that first day, all her apparitions and messages can be summed up on that particular day, because there is nothing else that she can give us but Jesus! She gives us Jesus, she presents us to Jesus and she guides us to Jesus. That is why she will say that the purpose of her apparitions is "for you to be happy here on earth and to be with me one day in heaven."
How do we reach heaven? God did not leave us with empty hands. He did not leave us without any means. He gave us His Word. So when we look at Our Lady's messages we don't find something new, something that we never heard of, something that we do not know. There is no new information in her messages. In her

messages there

are no

expresso

solutions. There is

expresso

coffee, but there is not

expresso

prayer. When we read the messages they are very simple and from the Gospel. They are very simply said, in a motherly way. And that is why her apparitions are not the issue. If there were no apparitions, that would be a problem.
You who are parents, you know this well. When you see your children taking the wrong path, that they are not

well

, then the parents, the father or mother, cannot stay quiet. Looking at the children, what does a parent do? He or she speaks, invites, loves and suffers, and that is exactly what Our Lady has been doing here in Medjugorje. She can't live instead of us, decide instead of us and to pray instead of us. WE are all responsible for our own lives. She is the one who can encourage us, who can speak to us.
And reading the messages of Our Lady, I see in them not only an invitation to prayer, but her messages are prayer itself. They are a prayer addressed to you and to me. That is why she says in one of the messages, "Dear children, I adore your freedom, I respect your freedom." She says, "Dear children, freedom is a gift of God, but it is also your own weakness." In freedom we can make a decision for God or for that other side far from God.
And I believe you have heard of the late Fr. Slavko Barbaric. Maybe some of you heard of him. He died on

24th

of November, in 2000, up on the top of Cross Mountain after having finished the Way of the Cross which he animated with the faithful, the pilgrims. So when you climb Cross Mountain you will see there, close to the top, at the 14th Station, there is a big rock, and on the rock there is an image of the Late Fr. Slavko. He used to say that when the apparitions started, he was studying at the time in Germany. He was studying religious pedagogy. Then one professor said to him, you who studied in Germany, you won't find it so easy to believe in those apparitions that are taking place.
However, when he came for the first time in January of 1982, he desired to meet the visionaries, and what he found interesting he said was that they shared what they wanted to share, they shared with me their own experience of the apparitions, and all that I asked them about they would answer. But he said what was interesting was that none of them asked him if he believed. None of the visionaries forced him or encouraged him to believe.

No they

left him free to decide what he wanted. So God never forces. Our Lady did not come here with guns in her hands. She did not come to threaten anyone. She did come to put anyone in danger. Medjugorje does not put anyone

into

danger. It is not a threat. Medjugorje is hope.
Medjugorje is hope for the world. Medjugorje is the open heaven. Here we are not enclosed in one ball, the globe. Our Life, as Our Lady says in the message given on the 25th of the last month, she said "your life is short and passing." And very often we will live in the life as if death does not concern us at all, as if death is somewhere outside of us, but on the contrary it is different. Death is with us. And do not enter heaven when we die, we

enter

heaven already here on earth, because already here on earth, we

decide

for heaven. Because after death, everything is already decided.
Time is empty. Time is like a basket that we should fill with good deeds, with acts of love and sacrifice, with a responsible way of life, with a life according to God's commandments. We live as St. Paul says, in faith, not in observation. That is why we need faith. And faith is not something we keep. That we lock up and keep in our

pocket

. Faith is a personal relationship with God. And that is what Our Lady wants to do here. She wants to strengthen our faith. We need to nourish our faith. We need to make it more profound. Faith is not something that opposes reason.
You know that many doctors, many scientists, many doctors, here in Medjugorje examined the visionaries and all that has been happening. There were many experts here. And none of them can say what it is that the visionaries see. They simply say that the visionaries are not sick, they are not hallucinating. Our reason, our science, can reach only to a certain level. It is limited, but over that boarder, faith and trust can help us.
That is why Our Lady comes to say to us, not something we don't already know, but because we don't live what we already know. And when they ask me if I already live Our Lady's messages, it is like when someone would ask me if I already live the Gospel. Then every time that I see that I do not profoundly live it, and that on that day I could live it better and better, and that every day I should live more and more of it, that is why Our Lady's messages are like the Gospel.
That is why when one comes to Medjugorje it is not important to see the sun spinning or to look for signs and wonders outside. The most important thing here in Medjugorje is conversion, the change of heart. To make your own heart like Jesus' heart, and Mary's heart, and that is not easy, that is a journey. It's a task. And grace is needed for that, because with my human power I cannot convert anyone, not even myself. But God can! God can if we ask, if we plead, if we desire this, if we yearn for this. We can even pray for conversion of other people. Many people here have converted. I always say that many people have spiritually woken up here.
But many have said to me, Father Ljubo, after Medjugorje, after my conversion, after my spiritual awakening, it seems that my life became harder. That is also of the Gospel. Jesus said that the path to life is narrow and hard. One pilgrim said to me, maybe a bit jokingly but also seriously, "

Father if

you want to have a pleasant life, do not choose Our Lady to be your patron. Find something else. I didn't really understand straight away what this pilgrim was saying to me, so I asked "Why?" And he said, "If you choose Our Lady then she won't leave you alone!" Truly it is so, she won't leave us alone because she wants what is

the best

for us! She guides us along that narrow, hard path that leads to life.
More

tomorrow

!
In Jesus, Mary and Joseph!
Cathy Nolan
©Mary TV 2014
PS. Don't forget that on

Saturday, November 15

, Mary TV will air an Evening of Prayer for Peace from St. Stephen's Cathedral in Vienna,

10:00 am EST to 4:00 pm EST

(

4:00 pm to 9:00 pm

Vienna time). Due to the live streaming, the Daily Rosary will be moved to

9:00 am EST

(only for

Saturday

)

!

Don't miss it!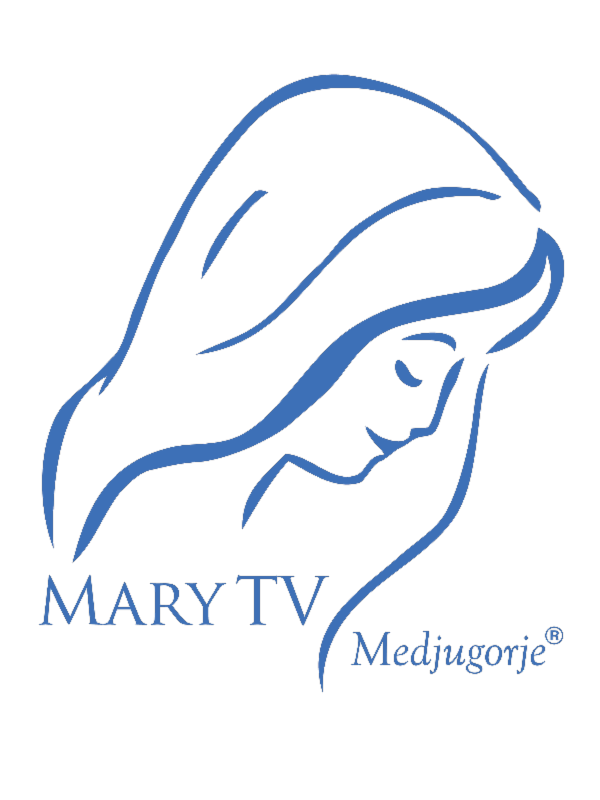 "Medjugorje is the spiritual center of the world."
Saint John Paul II
Be connected!
www.marytv.tv