(c) Mary TV 2014
J.M.J
Dear Family of Mary!
Thursday, March 1, 1984

Message to Marijana:
"Pray and fast. When I tell you to pray, do not think that you have to pray more, but pray. Let prayer and faith awaken in your hearts."
"Each

Thursday

, read again the passage of Matthew 6, 24-34, before the most Blessed Sacrament, or if it is not possible to come to church, do it with your family."
Yesterday

during our Rosary (online) we read Matthew 6: 24-34, in response to this message from Our Lady in 1984. Denis and I had an interchange about this passage that I would like to transcribe, because what came out of us was helpful for me. (Sometimes the Holy Spirit has his way with us!)
Cathy: It's

Thursday

, and we should read Matthew 6: 24-34....I do find that because of this grace to be able to pray every day together, it's the "every day" part of it that is really making a difference in my life. The Rosary is a marvelous daily tool, and the more we do it, the more we persevere, the more we open ourselves to the graces, they accumulate. And I feel the strength of it, because there are some things I think I would not get through in the past that I can get through now, because of our daily Rosary.
Denis: Our Lady has said, "I wish that the Rosary would become life for you."
Cathy: I think also that reading Matthew 6: 24-34 once a week is also increasing in us an understanding of what Jesus was trying to say, which is very important. Our Lady says it is important, so it must be!
"No one can serve two masters; for either he will hate the one and love the other, or he will be devoted to the one and despise the other. You cannot serve God and mammon....It's really true, we cannot divide our heart. We can't divide our heart. I think that is what Jesus wants. He says we have to be whole-hearted. Right"
Denis: Oooh! Our Lady said, "You who have said 'yes' give all of yourself."
"Therefore I tell you, do not be anxious about your life, what you shall eat or what you shall drink, nor about your body, what you shall put on. Is not life more than food, and the body more than clothing? ...Now I think back to the Antiphon for Mass today about not living for ourselves but living for Jesus. This passage will help us do that.

Look at the birds of the air: they neither sow nor reap nor gather into barns, and yet your heavenly Father feeds them. Are you not of more value than they?
And which of you by being anxious can add one cubit to his span of life? ...When we are anxious I think we are still hanging on to some other security which means we are double minded, divided in our heart by hanging on to another security.
And why are you anxious about clothing? Consider the lilies of the field, how they grow; they neither toil nor spin; yet I tell you, even Solomon in all his glory was not arrayed like one of these.
But if God so clothes the grass of the field, which today is alive and

tomorrow

is thrown into the oven, will he not much more clothe you, O men of little faith?
Therefore do not be anxious, saying, `What shall we eat?' or `What shall we drink?' or `What shall we wear?'
For the Gentiles seek all these things; and your heavenly Father knows that you need them all.
But seek first his kingdom and his righteousness, and all these things shall be yours as well.
"Therefore do not be anxious about

tomorrow

, for

tomorrow

will be anxious for itself. Let the day's own trouble be sufficient for the day. (Mt 6: 24-34)
Really the enemy here seems to be anxiety, doesn't it?
Denis: All anxiety comes from the devil, Our Lady says.
Cathy: And when we give in to anxiety we give the devil a toe-hold in our life, because we let what he wants us to worry about to get inside, and when that happens he can wiggle his way in and cause so much trouble in our hearts. So let's renounce anxiety.
Denis: Yes, Our job is to receive peace and live it and it doing that we spread it. And can you share what you shared with me from your prayer at Mass today?
Cathy: Well it was about living now for Jesus and not for ourselves. In the antiphon after Communion it said, "Christ died for all, that those who live may live no longer for themselves, bur for him, who died for them and is risen. Alleluia." Jesus came from heaven and became man. When we think only in human terms, in temporal terms of the earth, spinning around on the earth, it is chaos...the earth without God is chaos. Without knowing God life just goes around and around, there is suffering and difficulty, and it is not easy. But Jesus came to earth to show us that God exists, that He is with us and He died for our sins, and he has made up the difference. There is a fixed point outside of earth (outside creation really) that is fixed to us because of His humanity, and so we have that always to hold on to. We believe in Jesus, we live for Him, and He makes sense out of everything, so that if we live for Him we will have that deep inner peace of knowing that everything is going to be ok. We have that, it is given to us. So it gave me such peace for today in the Antiphon. It was beautiful to hear it at the end of Mass when the priest prayed it. "Christ died for all, that those who live may live no longer for themselves, bur for him, who died for them and is risen. Alleluia." If we live for ourselves we will have that anxiety we read about in Matthew 6: 24-34. If we live for ourselves we will live only in our own little universe, and it is total chaos. But if we live for Christ, that means we fix our eyes on that eternal place, that eternal perspective that is outside of temporal existence. It's real and it is for us.
Denis: Our Lady has said if we surrender to her we won't feel a change with death because we will already be experiencing paradise on this earth. We won't be subject to this whirling around like "ring around the rosy"!!
"And the peace of God, which passes all understanding, will keep your hearts and your minds in Christ Jesus." (Phil 4: 7)
Have a great weekend. Pray, pray, pray!!
In Jesus, Mary and Joseph!
Cathy Nolan
©Mary TV 2014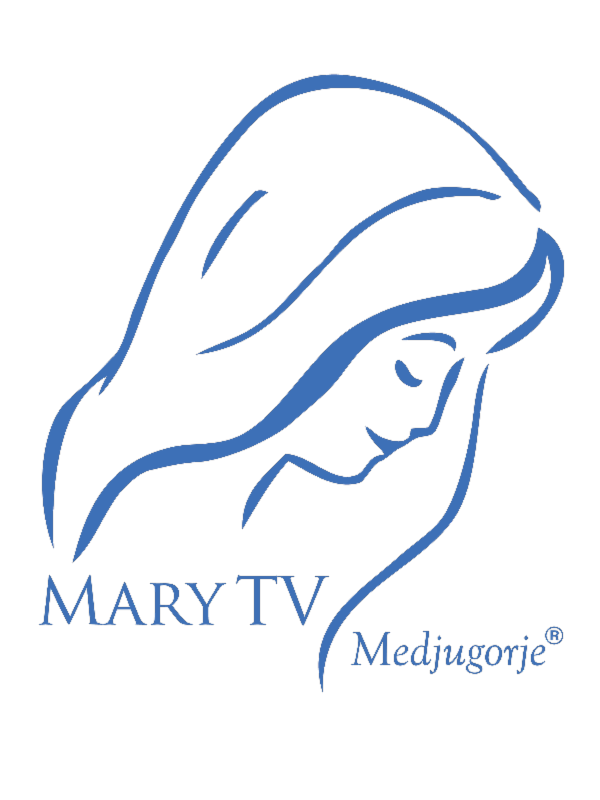 "Medjugorje is the spiritual center of the world."
Saint John Paul II
Be connected!
www.marytv.tv