* May 5 – Coptic Patriach Cyril VI approves the Zeitoun apparitions in Cairo (Egypt, 1968) * An extraordinary apparition in many respects ---
May 5 – Coptic Patriach Cyril VI approves the Zeitoun apparitions in Cairo (Egypt, 1968)
An extraordinary apparition in many respects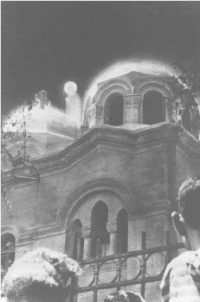 The apparitions of the Virgin Mary on top of a Coptic church in Zeitoun, Egypt, which began on April 2, 1968, were extraordinary in more ways than one:
They were witnessed by Muslim auto mechanics and drivers, and lasted several months, even years
Countless people, Christian and Muslim alike–sometimes crowds of 250,000 people–testified to having seen the apparition

The apparitions were accompanied by extraordinary and verifiable phenomena–visible in photos–and many healings

The bishops who served on the Inquiry Commission of the Coptic Orthodox Patriarchate of Egypt saw these apparitions too. The official recognition was issued by Pope Cyril VI, the Orthodox Patriarch of Alexandria, on May 5, 1968

The Catholic Coptic Patriarch immediately added his approval and no one ever contradicted the facts. No other religion has ever made known a similar supernatural occurrence.
and give your loved ones the opportunity to discover a new aspect of the mystery of the Mother of God each day.