* May 23 – La Linda (Peru, 1664) * The Virgin appeared and put out a fire ---
May 23 – La Linda (Peru, 1664)
The Virgin appeared and put out a fire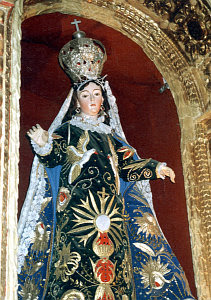 One cannot speak of Cuzco, Peru, without recalling that it was once the capital of the Incas. When the city of Cuzco was taken by the conquistadors on November 15, 1533, one of its new occupants' priorities was to build a place of worship symbolizing the triumph of the "true faith"—the Catholic faith—over the "idolatry" that the traditional Inca religion represented to them.
In October of 1534 they began building the first Christian church in the city, on a site called "Sunturhuasi" that later became the Cathedral of Our Lady of the Assumption, now a major Catholic shrine in the city of Cuzco.
On May 23, 1536, some Spanish Christians were besieged by incendiary Indians in Sunturhouasi. Providentially, the Virgin Mary appeared with the Child Jesus, and extinguished the fire. Pilgrims went to the scene to venerate the one whom the Indians now call "Pacha Tacctacc," meaning "the Lady who walks on this ground."
and give your loved ones the opportunity to discover a new aspect of the mystery of the Mother of God each day.