* May 21 – Our Lady of Ergotism Victims (Arras, France, 1105) * They dreamt the same dream ---
May 21 – Our Lady of Ergotism Victims (Arras, France, 1105)
They dreamt the same dream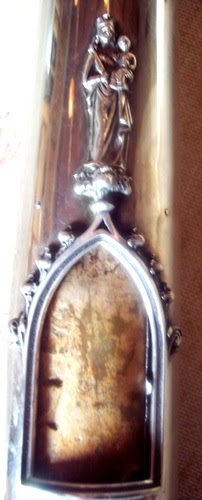 The Holy Candle

Around the year 1105, the inhabitants of Seninghem (a small town in northern France) and the surrounding province were struck with the terrible disease similar to the plague, commonly called "Saint Anthony's Fire" or "hell fire" because its victims suffered burning sensations in all parts of their body.
Around the same time, there were two jugglers, one named Itier, the other Norman, who hated each other because Norman had killed Itier's brother. One night, they both had the same dream: the Virgin Mary appeared to them and told them to go to the Cathedral of Arras (in northern France) and speak to a certain bishop there called Lambert.
Lambert understood that Mary had sent these two men so that he could reconcile them. He spoke to each one separately and then brought them together. He asked each one to give the other the kiss of peace and to spend the night in prayer in the cathedral.
At dawn on Sunday, May 28, 1105 (the feast of Pentecost that year), Mary appeared to them, gave them a lighted candle, and asked them to pour some of its melted wax in water, which they were to give to drink to the sick and to pour on their wounds. Miraculously, all those who drank this water were healed.
and give your loved ones the opportunity to discover a new aspect of the mystery of the Mother of God each day.