* June 16 - Canonization of Padre Pio (2002) * God may be like a "devouring fire" ---
June 16 - Canonization of Padre Pio (2002)
God may be like a "devouring fire"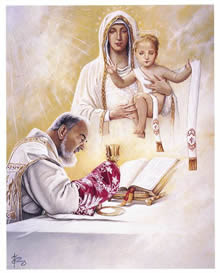 When we want to evoke that burning devotion present in the heart of Saint Padre Pio, we must remember the devotion he had for the Virgin of his childhood, the Madonna della Libera who was venerated in his parish church in Pietrelcina, Italy.
Indeed, we remark specific signs that show that his soul was transformed and configured to Mary and to Christ through the light of the Holy Spirit. The Virgin can mold a soul to the image of God. In this way, Padre Pio was brought to intimacy with the Trinity. And Christ communicates the flames of his Spirit to the purified soul that gives itself to Mary.
At this point, the "mystic" is plunged into a "flame of love" that spreads in his heart and ignites even his body. It is this phenomenon that produced hyperthermia in Padre Pio, with a body temperature sometimes reaching up to 118° and even 125° recorded several times by the same medical physician during his military service. This gives reason to believe that God may be like a "devouring fire."
and give your loved ones the opportunity to discover a new aspect of the mystery of the Mother of God each day.