Love is our strength!
(c)Mary TV 2015
J.M.J.
June 11, 2015
St. Barnabas
Dear Family of Mary!
"...But remember, strength is in love. My children, love is repentance, forgiveness, prayer, sacrifice and mercy. If you will know how to love, by your works you will convert others, you will enable the light of my Son to penetrate into souls." (June 2, 2015)
Fr. Gerald Michaud from Canada (English Mass in Medjugorje,

06/10/15

):
It is certainly great to be here and to experience the love and the faith that is all around us, the prayer and the people who come with an open heart to the Lord, Our God. As I was thinking about this day I realized that from the very beginning of my life I was in an atmosphere of love and prayer. We had the Rosary every day at home, every evening we knelt and the Rosary was part of our lives. And at nine years old I had a severe case of spinal meningitis. And the community and the school children all said the Novena to the Virgin Mary, and I received the Last Rites, which in those days was pretty serious. It was the last thing...and basically I recovered from that sickness and became a priest!
During my priesthood also I experienced that God was very present in my ministry, and God was working in me and through me. But at one point in my life, I had had too much, and I had a sort of exhaustion, a burn out, and I needed to take time for myself, so I went to a community where there was a lot of faith, love and acceptance. And I felt so privileged that I was surrounded by such people with great love.
At one point there was a silhouette of a mother holding her child something like this (mother in profile holding a little child up in the air). My first reaction was that it was the Virgin Mary holding Jesus in her arms. I was intrigued. Every time I went into that room I thought that there was something attracting me to this image. I thought of the many mothers and fathers who hold their children with love and say to their children, "You are my child, it doesn't matter if you mess your pants, I love you and your mine and you belong to me and you are with me!"
And one day I walked in and I heard a voice inside of me say, "Gerald, that is you." And I felt that it was God. It was Mary, who had come to me at my lowest and had lifted me up and had given me dignity, listened to me, they cared for me, and they surrounded me and forgave me. I felt as if I was being lifted up by God. So I went back to the Scriptures and started to read the Scripture. I realized that that is what Jesus was doing all of the time!!! He was lifting people up. He was eating with the sinners, he was with the prostitutes. He was with Zacchaeus and the adulterous woman, and what was he doing? He wasn't bringing condemnation or judgment, he was lifting them up and revealing to them that they are children of God.
At that moment I realized that that was my baptism. The Lord lifted me up and said to me, "Gerald, You are precious to me and I love you, and I am with you no matter what. No matter what happens in this life, you belong to me." I said to myself, yes that is Baptism! When Jesus was baptized, the Father said to Him, "You are My beloved Son!" And I believe that is for each one of us, that we are indeed God's beloved sons or daughters and that we belong to Him. His love is always being poured out over us. Because we are His beloved children.
And I realized that people like Jean Vanier, Mother Teresa... that is what they were doing. They were lifting people up, giving dignity to the handicapped and the poor, the dying on the streets and the orphans. And I realized that yes - that has to be our Church. Our Church has to be like Jesus. We have to lift one another up and accept one another and care for one another, because Jesus cares for each and every one of us.
And I think that the apparitions of the Virgin are a manifestation of God's love for the world, that we might be saved, that we might have new life, that we might know that it is not the outside things that give us life, it is the love of God. As I thought about the reading for today (Matthew 5:17-19), the Lord was saying that we have to go beyond the law. We have to go beyond. We have to live in love. God's gracious gift is poured out over us always. That gift is for us to receive. It is for us to nurture our lives with the love that is given. So we might give thanks to God.
As I reflected on Mary at the Annunciation and the Angel Gabriel came and said, "Mary, blessed are you, Mary full of grace." I was thinking about "Full of Grace"...what does it mean? Full of the love of God. Mary had received the love of God and she had treasured that love. That love was in her and she was giving love, she was full of grace. She calls each one of us into that grace.
And the angel said to her, "The Lord is with you." We must realize in our lives that that Lord is with us every minute, every second of the day. The Lord is with us. And Mary is leading the way for us. Mary is calling us to walk on that path.
And the angel said to her, "You will become the Mother of God. You will give birth to a son." And are we not called, each and every one of us to give birth to Christ in our relationships with one another? To care for one another, to bring Christ where there is strife, to bring Christ in all our situations, in all the broken relationships - we can bring the presence of Jesus there. We too have been called to give birth to Christ in our world today. Because of our attitudes.
And the angel said, "Mary you don't have to worry, the Spirit of God will do it in you." And we realize that we too have received that Spirit and that we can trust the Father. We may not know what to do and how to do it, but we can trust God and we can allow God to do in us what He wants to do. And the response of Mary in all of that, "Let it be done to me according to you Word." I believe that that is where our Christina journey wants to lead us. So that each one of us will come to that place in our lives where we can surrender ourselves totally to the Father, trusting Him with our lives. And trusting that we will be led and be given everything that we need. And that we can go forth with full confidence because our God is with us. And He is using each and every one of us and especially those who are little, because those who are little seem to be not in their heads as much, but to be in their hearts so God can use them in whatever way.
And we know what Mary said, "My soul magnifies the Lord." And that is where we are called, that is the journey of our faith. That is the mystery that Mary lived, and that we are called to in a special way. We are called to that journey and Mary is helping us and accompanying us on that journey. So we can also be God's instruments.
And the messages of Our Lady in Medjugorje are always all about that. Always about love. Because love is the perfection of the law. That is what our reading says. Jesus is in front of the Pharisees, and they are following the law but there is no life in it because they are following the law exteriorly. They are just doing things automatically, by routine. And Jesus says, I have come to give you a new spirit, that you might bring that spirit into the world. That we might love one another. That we might continually go beyond.
One lady was telling me not too long ago, that at Christmas time her husband was depressed and he didn't want to go and visit the children, and didn't want to do anything. He just sat in front of the TV and listened to the TV. And one day she was tired and she gave him "hell." She came down on him and told him to straighten up and get with it. But at Mass the next day she understood because in her heart she said that she heard the Lord say, "You must love the poor and the broken." And so she came home and asked her husband forgiveness. And as she asked her husband forgiveness, the spirit of depression lifted from him. And everything was ok. She had asked forgiveness and recognized that she is called to love.
You see, the Lord always calls us to go further in love. To break the barriers that are between us and to really love. Because we have been loved freely by God. That is what the first reading was all about today (2 Corinthians 3:4-11) - that in God's graciousness we do not earn our salvation. Salvation is a gift from God. It is a gift of His love. It is a free gift. I don't have to earn it, I don't have to do anything. God's love is continually poured out over us. I believe that we need be open to the love, open to the love that is given.
I have been here just over a week. I didn't know these people, accept Angie, and I have been surrounded all week by a tremendous amount of love and goodness and I feel lifted up all the time. I say often that I really don't deserve it. But then I say I am a child of God and I am learning to receive it fully because it comes from God! We have to come to discover the presence of Jesus in our life. He is there all the time, and His love is always there and may I open my eyes and my heart to receive the acts of kindness and acts of love that are freely given to me and then in turn, I need to love.
And so the perfection of the law is really in love. St. Paul says that those who love, their sins are forgiven. It's in love, in that openness. And in the Eucharist that we celebrate today it is that love that is renewed for each one of us. We are called to enter into that love. And to remember the love of Jesus for us. And that we might remember that we are a people who are loved. That our God is with us. And that we celebrate the many, many things we keep receiving from the Lord. And that we might receive the gift of His presence in the Body and the Blood that is given to us.
Receive My Body. Make room in your life for Me. Let Me be first in your life. And then you will know the blessings of life that God offers all of humanity. So let us enter again into this mystery of this love, of the self-giving of Jesus, so that that self-giving of Jesus might fill us and we might continue, each of us in our own way, to give ourselves in our lives to one another. (Fr. Gerald Michaud, English Mass

06/10/15

)
Thank you, Fr. Gerald!! Thank you!!!
In Jesus, Mary and Joseph!
Cathy Nolan
©Mary TV 2015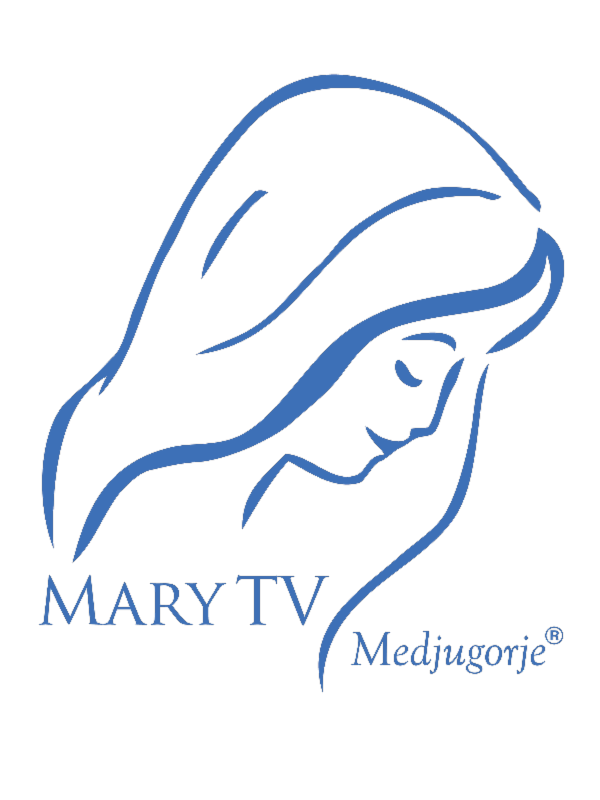 "Medjugorje is the spiritual center of the world."
Saint John Paul II
Be connected!
www.marytv.tv